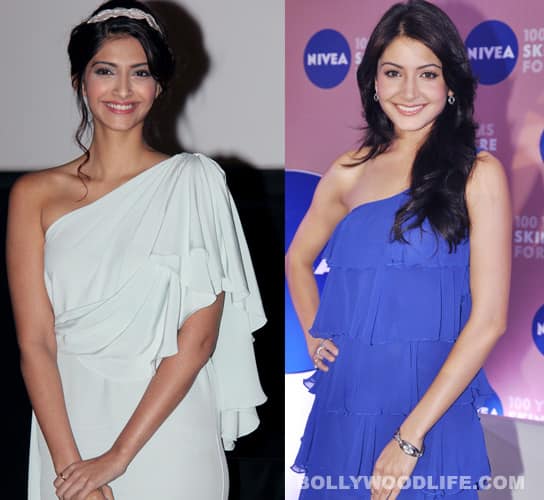 And why shouldn't she be? Just think of all the weight issues the style diva has faced!
Finally someone has the guts to speak up. At a recent New Delhi seminar, Sonam Kapoor revealed that it was not easy being an overweight kid in a figure-conscious world. She shocked the audience by talking about issues that are usually taboo for female actors – her "saggy bum", her cellulite-ridden thighs and the fact that she can never wear a bikini onscreen. While we cheered her on for her bold words, we also couldn't stop giggling as she took a dig at her rival actor, Anushka Sharma. Now Sonam has always been frank – whether she was taking on Shobhaa De on Twitter or Ranbir Kapoor on Koffee With Karan. So when she spoke about her weight issues, she also mentioned two other actors – "a badminton player" and one who is so skinny that everyone thinks she doesn't eat.
Now the first is obviously Deepika Padukone, but who is the second? Any guesses? Yes, you are right, we too think she was referring to Anushka Sharma. Speculation has been rife about Anushka being anorexic, and though she denied it every time, it irritated the Ladies Vs Ricky Bahl actor so much that she stopped answering questions about her weight. Sonam revealed that Anushka (without naming her, of course) really doesn't have a problem with food. She has seen her rival eat, but since the gal manages to stay skinny, everyone assumes she has an eating disorder. Would you blame Sonam for going a teeny weeny bit green over this? We don't!