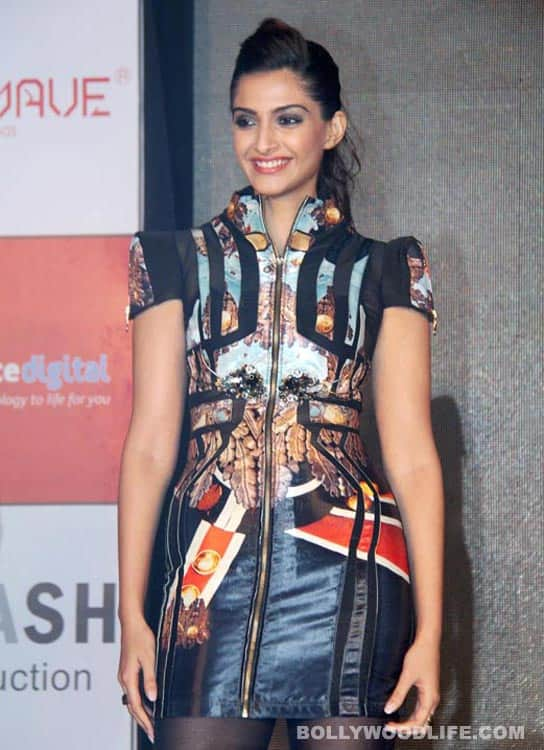 Sonam Kapoor believes Aisha's director Rajshree Ojha did the right thing by disowning the vanity film. Is Sonam really taking responsibility for the film's debacle?
Sonam Kapoor graciously accepts Rajshree Ojha, director of Aisha's decision to disown the film. "I only look at it as a positive experience. It's right for her to disown the film. It's her right," said the 26-year-old at a fashion event. Apparently, in a recent interview with a daily, Rajshree had hinted that she was not happy with the final cut of the 2010 film. "I had no control over the final cut. Should I be politically correct and say since my name was on the credits of Aisha, it was my film? Or should I tell you that the film I had originally conceptualised was not the one the audience saw," said Ojha. Clearly, the director is indicating that the original story was tampered with, which resulted into its disastrous fate at the box office.
Some time back, Aisha's leading hero Abhay Deol disowned the film. Based on Jane Austen's classic Emma, the film was a disaster and didn't go down as expected, possibly due to producer Anil Kapoor and his daughter Sonam's excessive interference. "There were many layers to the character. However, I don't know where those layers vanished," claimed Rajshree. Sonam is handling the situation with a cool head so far. Nonetheless, the Mausam actor is not coming clear on what really went wrong with the final cut and who is ideally responsible for the way Aisha turned out. At present, Rajshree is busy working on her next film Chaurahen, while Sonam is looking forward to her sister's directorial debut. "My sister is going to make a film based on a book titled Herogiri. We have patented the book and this is the first time that something of this sort has happened. With this, there would be no discussion or issue about the title, or stealing of content or creative idea," said Sonam. Though both the ladies have their respective projects to look forward to, the ghost of Aisha is still haunting them. In this scenario will the producer of Aisha, Anil Kapoor stand up and play peacemaker?