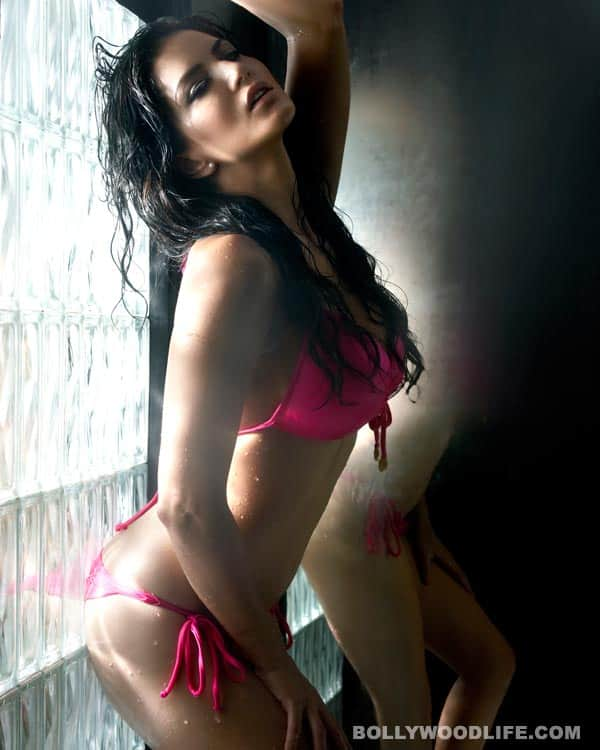 The adult film actor surprised the makers of Ragini MMS 2 by asking for a body double to shoot a relatively harmless steamy scene. Has Sunny Leone forgotten her USP?
For someone who has done everything imaginable for the world to see and relish, Sunny Leone's refusal to show her cleavage for her forthcoming movie Ragini MMS 2 has come as a shocker to the makers of the horror flick.
Our secret birdie chirped to us that Sunny asked for a body double when she was asked to show a fleeting glimpse of her cleavage. She even refused to show her back in a scene. Interestingly, for a dance sequence in which Sunny was required to wear a skin coloured costume, she insisted on wearing a black or golden outfit. At one point director Bhushan Patel lost his cool and called up producer Ekta Kapoor to intervene. To her defense Sunny has her explanation ready. Sunny felt that these shots did not require any skin show and just because of her image she was asked to do it.
Now this issue has boggled our mind at BollywoodLife. And here's why we think that Sunny is possibly acting very finicky.
With all due respect to the babe's talent that made her famous in the first place. Sunny, we believe, has every right to put her foot down and say NO if she is not comfortable shooting something that she feels is not appropriate. Just like every famme fatal in the industry, Sunny too has the right to draw the line wherever she wants, just like she owned that right (and executed it too) to drop her clothes and indulge in what is famously called a colourfully risqué affair to begin with. But what looks funny and largely finicky, in equal measures, is that the Canadian pornstar is slowly forgetting the USP of her popular image which opened new doors for the actor.
Sunny has now transformed into a Bollywood babe who is enjoying doing thumkas and matkas in Mumbai more than the 'hard-work' back in Los Angeles. And now the Jism 2 actor suddenly wants to break away from her notorious persona and is looking for an image makeover!
Honestly speaking, don't you think Sunny is nurturing high hopes here? For someone who doesn't speak Hindi, and can't contort her face to give an expression or two even when she is held at a gunpoint, will our filmwallas  take Sunny's switch from being a showgirl to an actor seriously?