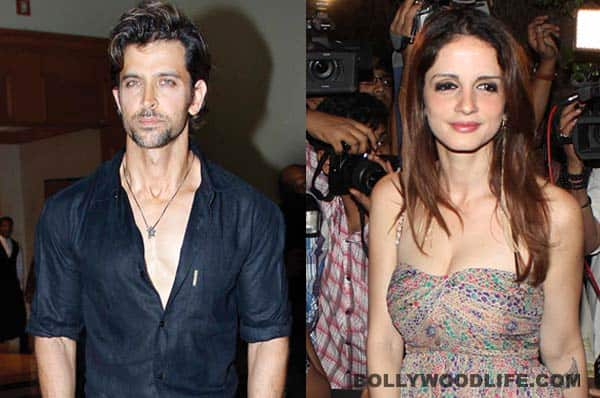 The Bang Bang actor and his designer wife announced their separation last year, but it seems that its repercussions continue in their lives even today
Hrithik Roshan and Sussanne Khan had given out two separate statements about moving on from their marriage, time has passed but this past still haunts Sussanne. Apparently her personal life is now hampering her professional equation with partners Seema Khan and Maheep Kapoor.The latest buzz doing rounds suggests that all's not well between Susanne, Seema and Maheep. While Hrithik was supposed to grace their store launch, the news of their divorce changed the entire scenario. A whole lot of superstars came for this event from Krrish 3 star's close pal Shahrukh Khan to Seema's brother-in-law Salman Khan, however it was the news of separation that loomed over this new beginning.
While Hrithik's biwi has been avoiding the media, it seems that her partners too have been pushed to the oblivion with Sussanne's personal life taking centre stage in every conversation. Hence despite many offers to feature these three ladies and their enterprise by various publications, the trio have not yet given it a go-ahead. Susanne is worried that work will get sidelined amidst talks about her relationship with Bang Bang actor having gone kaput. This has miffed Ms Kapoor and Ms Khan, as the media houses approaching them for this feature want the trio together and Sussanne is not yet ready to talk about her personal life.
Looks like, Sussanne's personal baggage is weighing a little too heavily on her professional front.