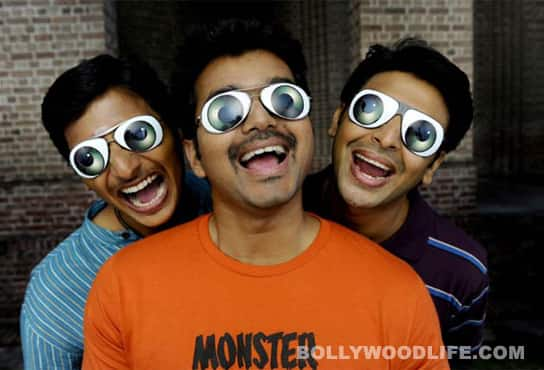 This past weekend, Cineswami was importuned to watch the latest Vijay vehicle Nanban, it being Sankranti/Pongal. Obviously, the whole world and its canine friend knows that the film is a remake of Rajkumar Hirani's 3 Idiots and the same world dwellers and their barking brethren would have seen the Hindi film
Apparently not, as our friends in Kollywood purchased the Tamil remake rights and entrusted the reins to Shankar, the biggest Indian director. Upon watching the film, the first thing that strikes you is how incredibly lazy it is. Apart from a few song picturisations, which themselves feel cut and pasted from past Shankar triumphs, there is absolutely nothing new in Nanban, if you have watched 3 Idiots that is. The plot is exactly the same, the dialogue appears to have been translated from the Hindi by a machine and what's worse, for much of the film it's a shot by shot rendering. Clearly, Shankar the director was on a break from making two Rajinikanth films back to back and having too good a time to put his own stamp on Nanban.
So, what then was the point of remaking 3 Idiots? The answer lies in Vijay and in the anti-Hindi agitations in Tamil Nadu in the 60s. On January 25, 1965, a day ahead of India adopting Hindi as her official language, the resolutely non-Hindi state of Madras (as she was then) went up in flames protesting the imposition of the non-Dravidian language in a Dravidian state. Though matters simmered down, Hindi and by extension Hindi cinema never really percolated down to the Tamil grass roots unlike elsewhere in the country and in the three neighbouring states of Andhra Pradesh, Kerala and Karnataka. Hence, a large percentage of the Tamil Nadu population, especially those living outside of the urban agglomerations, are unlikely to have watched 3 Idiots. And hardly anybody watches Hindi-language television there anyway and therefore a television audience for 3 Idiots would have been low.
Thus, here's an event picture with a marquee star and the country's most flamboyant director, being released on a popular holiday. It makes total economic sense as the gargantuan opening numbers for Nanban attest to. Therefore those decriers of Nanban as a pale and pointless version of 3 Idiots have only half a point. Pale it may be, but pointless it is not as it is catering to a brand new audience. We only have to look into our Superstar's career to get more examples. Amitabh Bachchan reigned over most of the Indian box office in the 70s and 80s but for the Tamil audience, many of his superhits like Don, Deewar, Amar Akbar Anthony, Trishul and Mard, to name but a few, were remade starring Rajinikanth. It wasn't confined to Bachchan alone as Dharmendra starrer Maa and Amol Palekar starrer Golmaal were also refashioned in Tamil as Rajinikanth vehicles. And today, Vijay, who goes by the title of Ilaya Thalapathy (Junior Superstar), is trying to refashion himself in the original Superstar's image. The release of Nanban saw the erection of several giant Vijay cutouts across India that were anointed in milk in Thalaivar fashion. A gentle reminder to Vijay fans – the original article is still very much around and Kochadaiyaan begins shooting on January 19.