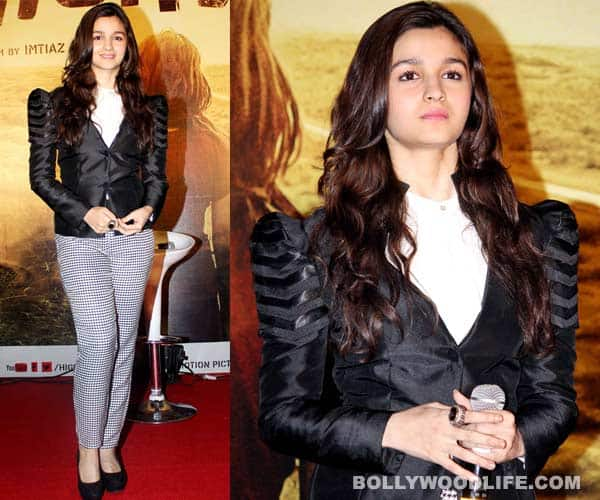 The Highway gal is on her way to becoming one of the most oddly dressed babes we know. Take a look at the Student Of the Year actor's recent appearance and tell us if the spunky Alia needs a new stylist
When she opened her chatty mouth on Koffee With Karan to air her opinion on Parineeti Chopra's style sense – or the lack of it – little did Alia Bhatt know that she herself had been on the radar of the fashion police for a long time for her not-so-flattering sartorial statements. And when 20-year-old petite babe appeared at a recent media event to promote her new movie Highway, she surprised (read: stunned) us with her horrifying style sensibility.
If the simple black pumps and the blah high-necked blouse teamed with houndstooth pants made us go 'What's that!', Alia made us giggle wickedly with her horribly crafted, ill-fitting black velvet MapxencaRS jacket that made her look like a warrior princess from Shakespeare in a love saga. Confused? So were we. The puffy shoulders and the oddly tonged hair-do made Alia an instant fashion mess that set some of the more acidic-than-us tongues wagging, then and there. We too thought that she could have used a look in the mirror before walking on to the stage to prevent that blooper.
Perhaps Alia needs to study Style for Dummies before gifting it to Pari. After that appearance, if anybody needs some style lessons, it must be the sassy Alia – right, BL peeps?