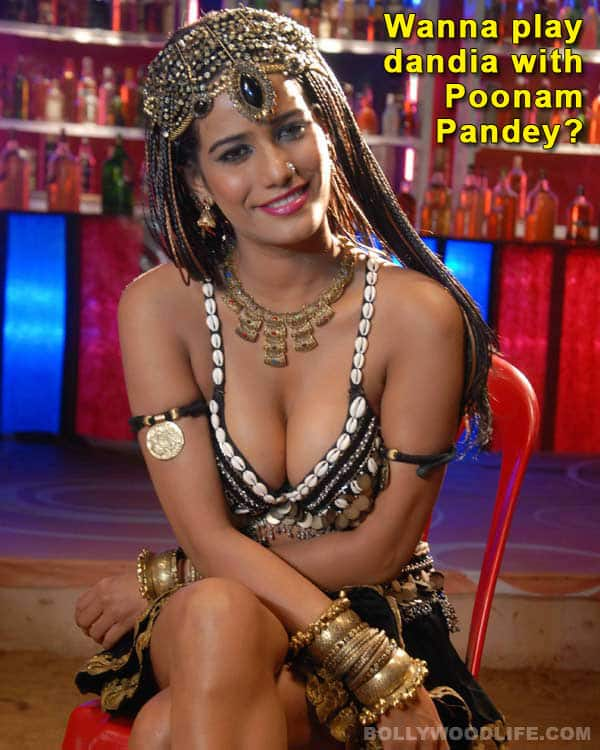 The Nasha actor has sunk to a new low after a failed attempt to make an impact with her debut film; Poonam Pandey is trying new tricks at the cost of looking as disastrous as this!
Poonam Pandey has possibly played every gimmick card to get the much needed attention. From threatening to go naked for our ever-so-well-performing cricket team to posting her naughty pictures on Twitter, the Pandey babe has tried everything one can imagine and beyond to enter the big bad world of Bollywood. She even fetched a movie in the process, but much to her dismay the production tanked at the box office thanks to the lack of the much promised skin-show.
And now Poonam has set her eyes down South. She is currently shooting for an item song in a Kannada film. The sex siren is currently shooting for the song, which is part of the Rajesh-starrer Love is Poison. Apparently Poonam doesn't want to reveal how much she's getting paid for the sizzling appearance, but she did mention that the 'very good remuneration' is one of the reasons she agreed to do the item song.
The film's producer, Somashekar, has, meanwhile, declared that Poonam will get Rs 60 lakh for the sizzling number. Looks like the makers have not left a single stone unturned to make Poonam look her disastrous best. Highlighting her assets dramatically for the desired effects, the garish costume has made our desperate damsel look like a clown. And Poonam too has carried the gross look quite effortlessly with her colourful personality and with the desperation that is expected of her!