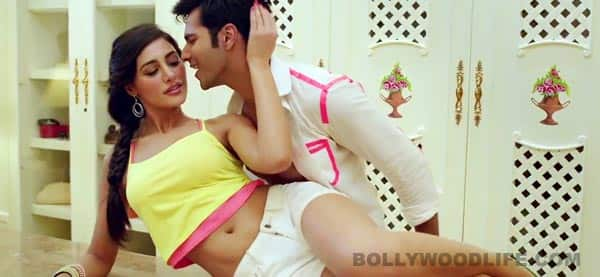 Here's the flirtatious actor trying to seduce Nargis Fakhri with his boyish charm. Watch the video to know if the dude succeeds in his steamy endeavour or gets a much deserving kick in the butt
We can imagine the fireworks blazing at the brightest on the sets of Main Tera Hero with three good looking people finding themselves in a romantic equation (read triangle). The very explosive Nargis Fakhri and the sparkling Illeana D'Cruz are seen romancing the half naked Varun Dhawan in almost every frame of the movie's trailers, mini-promos and songs. We even saw Varun using his toned moobs (man boobs for those who do not keep up with our quirky lexicons) to impress his leading ladies.
Taking his flirtatious streak further, you see the lad of director David Dhawan getting too close for comfort to Nargis Fakhri. As the two indulge in a slightly naughty banter about their onscreen chemistry, Varun tries to take advantage of Nargis. The response he gets ultimately is worth a watch. Now we are not going to spill beans on this daredevil adventure of Varun any further, you take a look at the video and tell us if the dude is taking is on screen herogiri a bit too seriously!