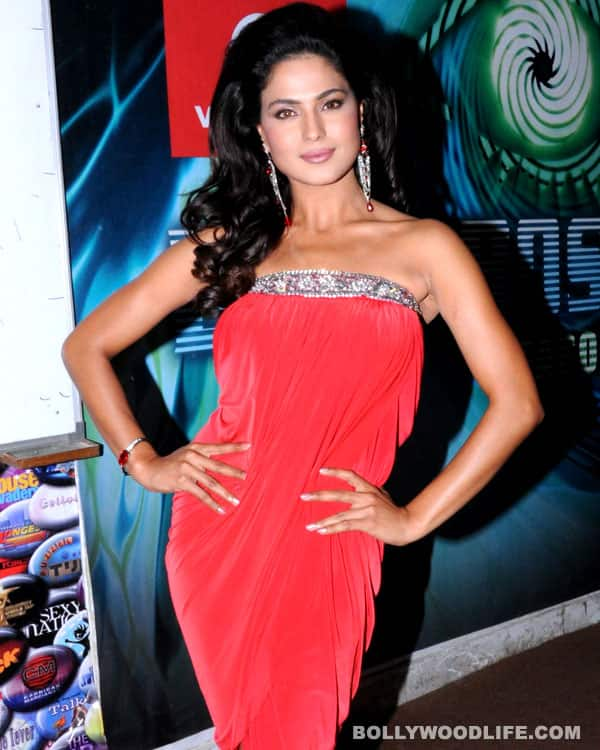 We found some sensational pictures of Veena Malik getting up close and personal with the director of her upcoming film Mumbai 125. When questioned about it, the Bigg Boss babe gave the age old excuse – the pictures are morphed! Oh c'mon Veena, give us a break, babe!
Just a couple of months ago Veena Malik was seen on the cover of a popular men's magazine in semi-nude avatar. After enjoying the hullabaloo that was created over it, Veena suddenly changed her stance when she realised that the moral brigade could attack her. She then started crying hoarse claiming that the pictures were morphed! And now we found the Pakistani seductress cosying up to director Hemant Madhukar. And this time round too Veena resorts to the same excuse – the pictures are morphed!
Veena was spotted getting close to Madhukar who is directing a 3D horror flick titled Mumbai 125. Veena is playing the lead in the film opposite her alleged ex-flame Ashmit Patel. Speculations are rife that the Pakistani import is getting too close for comfort to her director as she wants to get maximum footage in the film. When asked about the controversial pictures, Veena rubbished the allegations "If sitting and dining with someone is equal to flirting with him or dating him, it is nothing but rubbish. I share a good work relationship with Hemant, and I also know his wife. So all these reports are baseless," said Veena in an interview.
The so called healthy relationship between Hemant and Veena is quite evident in the pictures. Is this Veena's desperate attempt to get a foothold in Bollywood by staging an affair with her director? "Am I seen getting banged in these pictures? How are they intimate? I am just sitting and having dinner. If someone has cropped them or morphed them or clicked them from a different angle to make it look like we are getting close, it is not my fault. I won't get cosy with someone to promote my film or to get roles," said Veena in an interview.
Every time she's seen caught in an awkward moment or in the buff for a cover shot, Veena has one answer handy – the pictures are morphed! Don't you think your secret-admirers are tired of this cliched response, Veena?