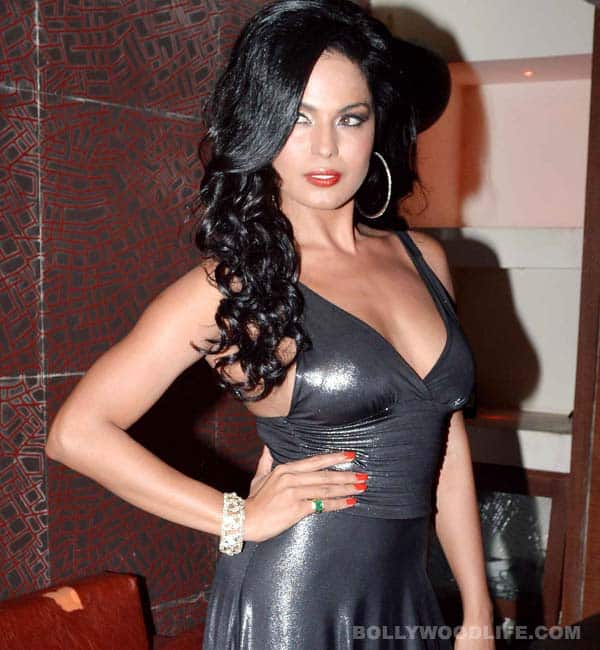 After her marriage with Dubai based business Veena Malik has decided to refrain from the world of entertainment, especially Bollywood. Read on to know how Veena has transformed from a controversially colourful starlet into a socially responsible (oh, really!) wifey who will now be seen only in religious movies!
Hardly had we recovered from the shock that came from watching sultry Veena Malik's transformation into a shy and submissive wife, when Veena made yet another lofty commitment that had us rolling on the floor.
After tying the ceremonial knot with Dubai based businessman Asad Bashir Khan Kattak, the Pakistani hottie faced a volley of controversies when her manager Prashant Pratap Singh claimed that Veena was pregnant with his child and the two had decided to opt for abortion. In her defense, the married Veena claimed that she could not possibly be in a relationship with Prashant since he is gay.
Following this, Prashant posted intimate pictures with Veena on a social networking site for the world to see (and enjoy the relentless tamasha). Singh even declared that if Veena doesn't apologise to him, he will soon reveal more proofs that will establish Veena's affair with him in no uncertain way.
And now comes the news from the land of Arabia. We hear the Pakistani import has decided to put an end to her entertainment career. Yes, you got that right! Veena will not be seen in any Indian (Bollywood) or Pakistani movies henceforth. But there is a clause attached to that condition-she would continue to act in movies with religious and social messages. The babe made the announcement from Mecca after performing Umrah. The Pakistani bombshell said that she would engage in projects which aim for welfare or social development. Veena recently appeared on a television show in which she announced that she had changed her lifestyle after she met Maulana Tariq Jameel.
Ok then-so one thing has been established fairly clearly now. Bollywood will certainly be down with one more item girl and the competition between the likes of Rakhi Sawant, Sherlyn Chopra, Poonam Pandey and Rozlyn Khan will not be as intense as it used to be when Veena was in Mumbai.
It's not that Veena was any threat to them since the babe had created her own market by featuring on the cover of a men's magazine in her birthday suit with an ISI mark emblazoning on her arm. Veena belonged to the league which she rightfully created by doing an item song that looked so seedy that it would have put even our glorious Rakhi to shame. Veena even danced vigorously to some sleazy tune with illuminating bulbs mounted on her starry choli. She continued to generate a stir for her intimacy with a certain Ashmit Patel. The lovebirds of Bigg Boss definitely gave us the much needed entertainment on national television.
And now with Veena's exit from the world of entertainment a void is created. Going by her 'commendable performance' nobody,in our opinion, can ever fill that void-no matter how desperately  one tries. In fact, nobody can match the relentless hysteria Veena created-on camera and off it!
But there is no need to lose hope yet. We hear that Ms Malik has plans to host a morning show with her husband on a Pakistani news channel. And given the way Malik's racing DNA gets unleashed, she will, once camera is rolled in, in all probability, convert that show into an entertainment package in some form or the other. You know what me mean, hai na peeps?