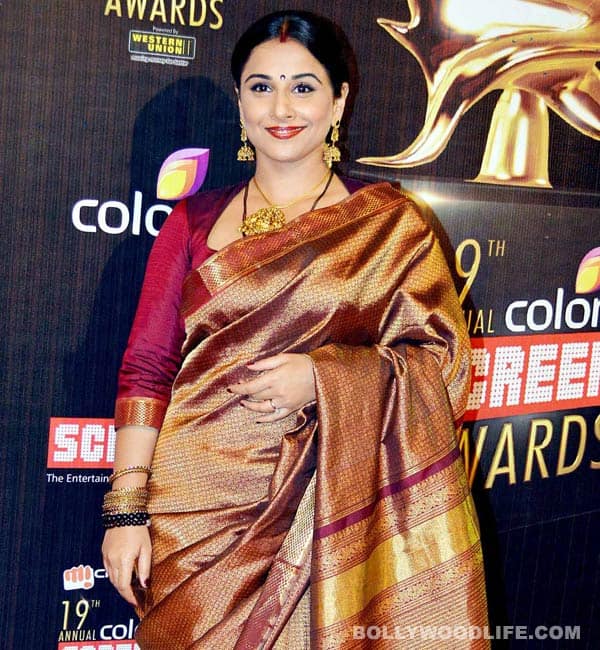 We hear that the Balan babe is all set to shed kilos for her next film, Shaadi Ke Side Effects opposite Farhan Akhtar. Does that mean she is planning to overhaul her wardrobe as well?
Vidya Balan has started sweating it out in the gym…and how! From eating small meals to avoiding spicy food, VB is doing what it takes to complement the fit and fabulous Farhan Akhtar. We don't want to discourage the Ghanchakkar babe from opting for new style statements. But somehow, when we imagine her as a slim and agile lady, there's an image that is conjured up in our collective psyche. And, of course, in that vision she surprises us with outfits that she has never worn before. And since VB is such a rockstar, we would like her to lose that cellulite and mesmerise us with some awesome ensembles.
And in case she finds that difficult to do, here are a couple of tips that might help her meet our expectations, if she finally gets into great shape, of course!
Peplum top and short sheath skirt: She may have faced a series of hard-knocks, style-wise, but we are sure when Balan  appears in a classy peplum top teamed with a short sheath skirt, she will look gorgeous enough to be labelled the next 'style icon' in B-town.
Floor length anarkali: We loved those causal arty-farty floor-length anarkalis VB wore during the promotional events of Paa. We are not talking bling here; we are referring to those long and loose outifits that gave her whole appearance an earthy, ethnic kind of feel. We always thought she had the personality to carry of such stuff.
Checkered / coloured pants: Balan has never ever gone funky. Once she battles those fatty deposits successfully, we suggest VB try something colourful and Western. Checkered pants teamed with monochrome tops or coloured trousers combined with casual T-shirts is something we would love to see Balan in. And if she wants to get a tad more 'flower child', she can give loose linen pants and ganjis teamed with a sling bag a serious try.
A classy sheath: Reserve this for press conferences and top-notch events, VB. If you are toned enough in a couple of months, we suggest you to go shopping and pick a stylish Dolce and Gabbana or a Halston Heritage frock without wasting much time.
Midriff revealing traditional ensemble: Vidya, you have the curves, so a flat tummy is all you need now! Imagine how a gorgeous a midriff-revealing lehenga choli will look when you stand in front of that mirror wearing it. You are going to preen, we bet!