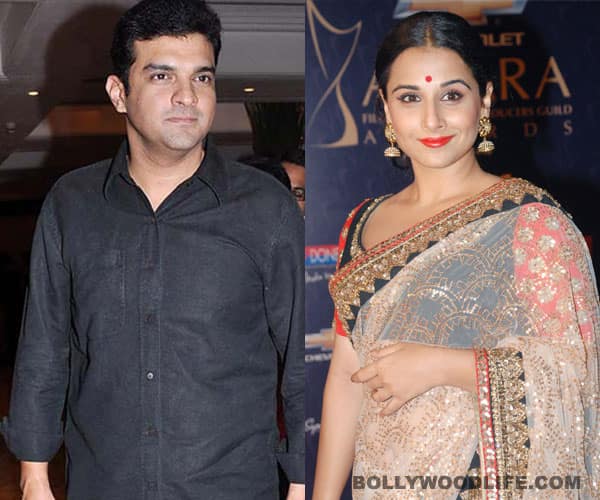 When your girlfriend heaves her bosom, jiggles her booty and croons Ooh la la as the entire nation watches on lustily, insecurities are bound to grip your otherwise liberal mind. But Siddharth Roy Kapur, it seems, is fretting over some other issues, which he needs to get sorted before he's labeled as possessive
If you think it's Vidya Balan's cleavage bearing, tummy jiggling dirty avatar that agitates the actor's boyfriend Siddharth Roy Kapur, you are wrong. We hear that it is not films like The Dirty Picture and Vidya's sensational performances in them that's responsible for turning the top corporate honcho into an insecure lover. In fact, going from what we have gathered we know that Siddharth is pretty cool about Vidya doing edgy, off the beaten track films. What is bothering SRK then?
It is the nasty rumours of Vidya's relationships with her alleged ex flames that's making Siddharth overprotective. A little birdie has chirped to us that Siddharth is not particularly comfortable with the idea of Vidya working with those actors she has been linked with in the past. Incidentally, when Tamil director Linguswamy suggested casting Balan for the Hindi remake of his film Vettai, Siddharth vetoed it saying the role wouldn't do justice to her talent as an actor.
Apparently, Siddharth is not comfortable with the idea of casting his actor girlfriend opposite Shahid Kapoor in the remake, possibly because Shahid and Vidya were rumoured to be an item during the making of 2009 film Kismet Konnection. Incidentally, Vidya is believed to have turned down Sanjay Gupta and Ekta Kapoor's joint venture for a similar reason. The Kahaani actor also hesitates to be paired with John Abraham due to strong reports of her affair with the hunk while filming Salaam-E-Ishq.
While we heard out all these stories with the patience of a hunter, we are not going to jump the gun and arrive at a hasty conclusion. We know Vidya is a sensible girl. She would not have stuck around with a possessive guy who could possibly hamper her career with his trivial insecurities. It could just be a lover's concern for his girlfriend; the rest of the story we would like to think is the figment of somebody's fertile imagination.