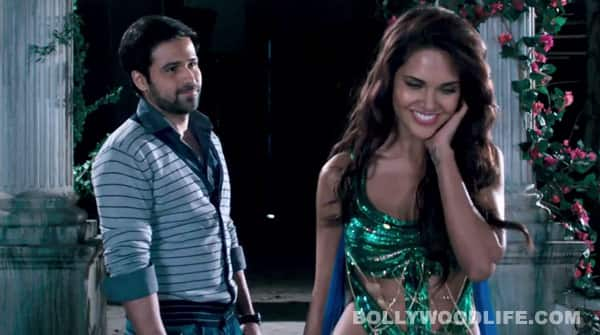 The poster boy of spooky films is ready with his next that is said to be based on his previous love affair with the Lazy lamhe babe
The Bhatts are on a roll these days. They have been churning out sequels left, right and centre. It seems like they have a template for their films ready and sometimes they bother to experiment with the faces in their cast. The major constants in their flicks are skin show and the half-baked intimate scenes. The farthest they have gone as far as the onscreen titillation is concerned, is their latest erotic thriller – Jism 2. While the Bhatts are still midway, laughing their way to the bank with the Randeep Hooda-Sunny Leone-Arunoday Singh starrer, they are ready with their next, Raaz 3. Perhaps the fact that the response to the Raaz 3 trailer has been lukewarm has urged the makers to quickly unleash their template love song in which Emraan Hashmi and Esha Gupta are getting cozy.
Buzz is that this supernatural thriller is based on Vikram Bhatt's love affair with buxom babe, Ameesha Patel. In a recent interview, writer Mahesh Bhatt said, "Raaz 3 is a cocktail of three true stories. One is about Shagufta, who has observed how people indulge in black magic to enhance their career. I know it sounds bizarre, but that's the truth. Bipasha was in a stage in her real life where she was heartbroken and her career was declining to ground zero. With the landscape filled with new heroines, she had a terrible phase." And he goes on to speak about the third similarity. "She (Vikram Bhatt's girlfriend) used to manipulate him to enhance her career," he says.
We wonder if Vikram Bhatt is trying to get back at his ex-flame, Ameesha, for dumping him in favour of a rich NRI. We can't say if this is really the truth, but it seems quite possible. Jilted lovers have done weirder things, no?
ALSO READ: Raaz 3 song: Emraan Hashmi and Esha Gupta get romantic in 'Deewana kar raha hai'