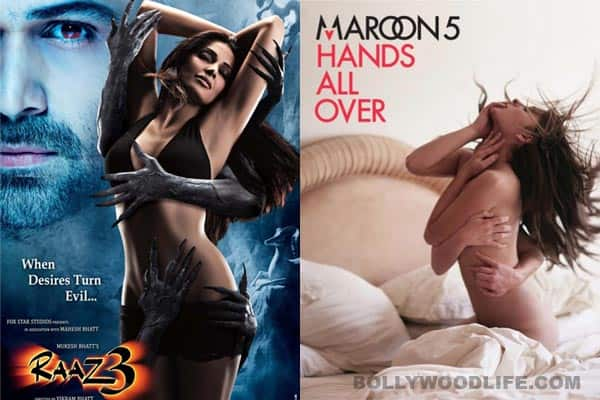 We think there's a slight similarity between the two pictures. But while the M5 image looks aesthetic and sexy, the Raaz 3 picture seems like a spine-chilling version…
What's common between the two pictures? Well, both feature seductive women covered with hands….not their own and more than one person can have. On the album cover we see a sexy woman with unkempt hair – sitting sensually on her haunches – being aroused by the hands of a person somewhere behind her. On the other hand Bong babe Bipasha Basu seems to be enjoying being clasped by the hands of something evil. Quite different in a lot of ways, but the core idea seems the same. We wouldn't be surprised to discover some day that the Bhatts derived inspiration from the album cover. After all, they are known for churning out songs that have a striking resemblance to Arabic and Pakistani numbers, no!
We do appreciate the work done by the deft fingers of the Bhatt camp's graphic artist and for giving his own quirky twist to it. Bipasha looks hot and those devilish hands make us feel squeamish – and that pretty much accomplishes the Bhatt family's mission. And as long as those sinister hands keep an arm's length from us, we might give the whole process of stepping into a multiplex and watching this horror 3D flick a fleeting thought.