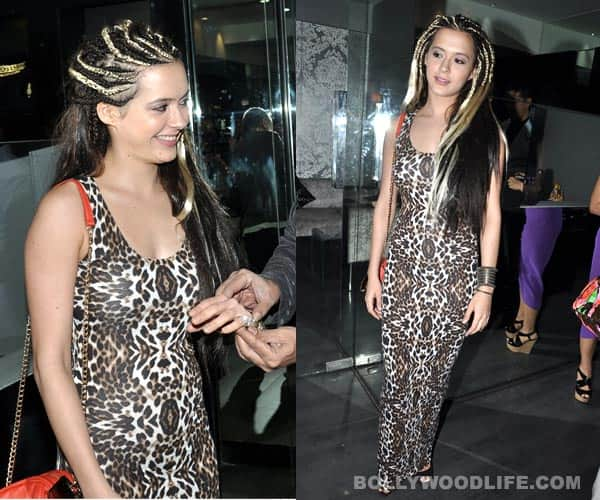 Her look at a recent event may have been funky-interesting, but did it work? We certainly did not think so!
Isha Sharvani is a pretty girl. She is slim, has nice features and wears her clothes well…we think so, anyway. Even in the various rather OTT costumes she has had to wear on Jhalak Dikhhla Jaa 5, for instance, she managed to display a certain elegance and grace. Of course, all those years of dance training have imbued those qualities in her since the day she learned to walk, wethinks. But at a recent appearance at a fashion event, she left onlookers – us included – rather stunned. Funky is fine, but this went rather beyond that brief, no?
At James Ferreira's jewellery launch recently, Isha made an astonishing picture. Dressed in a long leopard-print column frock, her slender shape was in great form. Our eyes travelled up along those slim hips, that flat tummy, those toned arms, those pretty shoulders and then stopped….not knowing where to focus. The hair threw us for a gigantic loop – it was long, obviously extensions, dark, obviously coloured and braided. All very well. But then every other strand, each second braid, was coloured a dreadfully fake platinum blonde. Yes, well, we discovered that it was part of her new look for a performance, but it left our sensibilities a trifle bruised and our minds more than a little blank. All we could think of saying was a bewildered 'Eh?'.
How do you react to Isha Sharvani's new look? We would love to know!