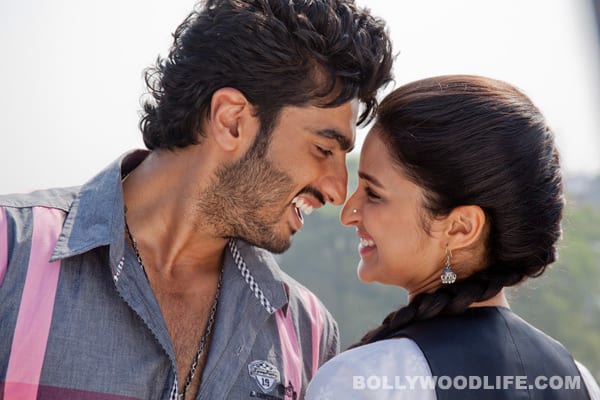 Director Habib Faisal comes up with a winning love story – one that is a tragic reality in several small towns in India – and spices it up with tangible romance and drama
Ishaqzaade is a love story set against the backdrop of two political families – the Qureshis and the Chauhans – living in a small town called Almor in what looks like Northern India. The patriarchs of both families are fighting to become the next MLA, involving in caste politics to fill their vote bank. It's an environment of hooliganism and hatred.
Parma Chauhan (Arjun Kapoor) and Zoya Qureshi (Parineeti Chopra) too get involved in the fight for power and supremacy. While Parmar wants to prove his worth to his grandfather, Zoya harbours political ambitions. Can love bloom between these two gun-toting hot blooded youngsters, amidst all the hatred and politics? It can and it does, as one would have expected it to from the beginning. But it is the 'how' that makes the film exciting.
This is not just another tale of two people whose hatred turns into love and how they fight societal norms. There is more to it than the cliche. Caught in the crossfire of hatred and politics, the rowdy Parma and fiery Zoya are forced into an irreparable situation. Interestingly, Chand Baby (Gauhar Khan), a dancer and prostitute who is on the fringes of society, seems to understand love better than the so-called upholders of the family name and the drivers of the political system.
What makes Ishaqzaade stand out is the script. Habib Faisal scores high in the writing department. He proved that even with his first film, Do Dooni Char, where he made a simple story about a middle class Delhi family an adorable and entertaining watch. In Ishaqzaade, the way Faisal makes his characters react to each other and to the situations unfolding around them is what keeps you hooked. You get the feeling that he is losing his grip towards the end, but he comes right back and makes up for it. Habib has cast an ensemble of completely unknown faces to support Gauhar Khan, Arjun Kapoor and Parineeti Chopra. And all of them do complete justice to their parts. Habib uses the character of Parma's mother to offset the political environment. A character that seems weak at first, but turns out to be much stronger than the others who openly wield their power.
Habib creates a web of politics, hooliganism, culture and the small town view of inter-religious marriage beautifully and with great detail. It's a reality that we watch on news television and often choose to shut our eyes to.
Amit Trivedi's score is perfectly in sync with the storyline and adds to the drama unfolding on the screen, bringing alive the romance developing against a ruffian ambiance.
The strength of the film also comes from the gritty performances of its lead cast. Gauhar Khan makes a huge statement with her role as Chand Baby. Here's one actor who is yet to be used to her full potential. She looks good and breezes through the part of a prostitute with great ease and dignity. But what everyone has been waiting for is to find out if Boney Kapoor's son and Anil Kapoor's nephew Arjun Kapoor can act. There is no doubt that this young man can hold his own in front of the camera. He showed lots of promise in the trailers, and he does live up to all those expectations. You can see that he has worked hard to get into the skin of the rugged and unabashed Parmar. Yet, he leaves you with a feeling that a lot more effort will be required on his part if he wants to add more depth to his roles in the future and sustain his career as an actor.
Even though he is impressive, it's Parineeti who steals the show from the debutant. After winning accolades for her role in Ladies Vs Ricky Bahl, Ms Chopra lifts her performance one notch higher with Ishaqzaade. She plays the rebellious and fearless character of a Muslim girl with great conviction and strength. Here's an actor to watch out for. It's rare for a one-film-old actor to be able to convey the minutest of emotions and expressions with this much ease and confidence. Her spontaneity and naturalness bring the screen alive.
Parineeti's performance is one of the aspects that make the film worth your while. Also watch Ishaqzaade for the raw, volatile and fresh chemistry between Arjun and Parineeti, for the almost flawless writing and direction by Habib, for a different kind of romance and, last but not least, the subtle and underlying statement of the harsh realities of small town love.