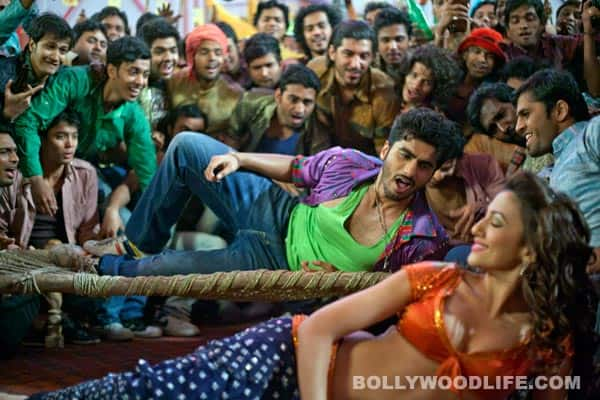 Music composer: Amit Trivedi
Lyrics: Kausir Munir
Rating: 4
Amit Trivedi creates a rustic and edgy soundtrack for this unconventional love story
The soundtrack of this seemingly passionate and rebellious love story is introduced with a lilting trumpet tune in the title track of Ishaqzaade. This song instantly establishes the amazing chemistry between music composer Amit Trivedi and lyricist Kausir Munir. The wind instrument gives way to a soft and nuanced vocal rendition by Javed Ali, who absorbs every little note and breathes out love and romance. Shreya Ghosal steps in towards the end and adds a new dimension to this track. Her voice cuts through the percussion smoothly, just like a knife through butter.
Chokra Jawaan is totally desi – almost in the zone of Beedi and Namak from Omkara, composed by Vishal Bharadwaj. But the lyrics  are not zingy enough. Lines like Ab tu bhi maan le, naino ke jam de…don't have the punch. Also, the tempo is lethargic. The sound of glass bottles clinking and gunshots intersperse the drum beats, making it a complete rustic experience, perhaps typical of a small town in northern India, where lawlesswness rules. Sunidhi Chauhan breezes through, while Vishal Dadlani brings a certain amount of raw appeal to the number. A little more energy in the lyrics and singing could have lifted this song.
After listening to the first two tracks you are bound to come up with a question. Can you pick some of the most non-poetic words (at least conventionally speaking) and string them together to make a melodious and hummable song? Ishaqzaade proves you can, especially with Aafaton ke parinde. It is a song title that is bound to stick with you for a long time and it's not necessarily lyrical, is it? It gets more interesting as you go further: Halaalon me, haramon me, jo dikhte the fasaanon me, Ishaqzaade, Ishaqzaade, kahaan hain ab jahanon mein. It's an all-out representation of this ferocious love story. While Divya Kumar sings the classical alaaps, Suraj Jagan induces the grunge rock elements with his power-packed voice. This number rocks!
The next track, Pareshaan is the best on this playlist; and its fresh singer Shalmali Kholgade, all the way! She moves smoothly from low notes to high-pitched vocals and then back to low. I wouldn't be surprised if she wins some awards this year. Apart from Shalmali's voice, the harmonium is also the hero of the song. The entire combination – electric guitar, violins, drums and harmonium – creates a crescendo, a breath-taking song.
The remix version works too. The tempo fluctuates and the vocals are used perfectly in sync with the electronic sounds and beats, differentiating this one from regular remixes that are part of so many Bollywood album these days.
Jhallah wallah is an item number with naughty and playful lyrics but it refrains from getting into the vulgar zone. Munir's coquettish word play and use of English in desi style (samjha humne tha golden jubilee jise wo to matinee dikha kar ke chumma le gaya) work in favour of this mujra number. After singing the soothing Ishaqzaade title track, Shreya Ghosal renders one of the most colourful and playful songs of her career with Jhallah wallah.
Ishaqzaade's soundtrack is passionate, romantic and rebellious. While Pareshaan emanates the aroma of soil soaked in the first showers of monsoon, Aafaton ke parinde smells of smoke rising from a raging fire. Ishaqzaade has both – the spunk of a teenager and the heart of a hopeful lover.
WATCH:
ISHAQZAADE new song: Chokra jawaan hua