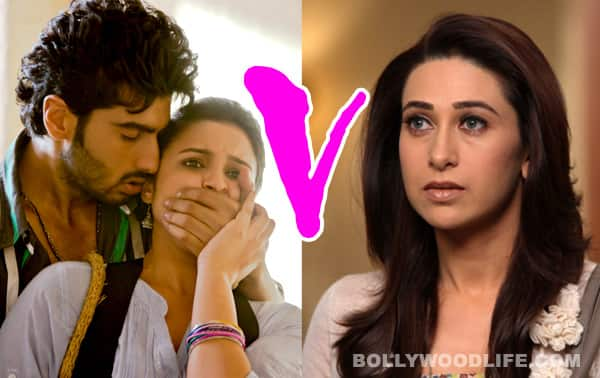 Two big films will release on May 11. We take a look at which one is more likely to come up trumps at the box office
This Friday will see the clash of two biggies of Bollywood. Yash Raj Films' Ishaqzaade will battle for attention with BVG Films and Dar Motion Pictures' Dangerous Ishhq. The expectations from both films are quite high – both for the fans and for the stars themselves. Boney Kapoor's son Arjun Kapoor is hoping for a dream debut while Karisma Kapoor is wishing that her comeback will be as magical as her first stint was. Both are romances though the way Habib Faisal and Vikram Bhatt have treated them has made the films totally different from each other. But which one will win the audience's hearts? According to trade analyst Komal Nahta, "Both should get reasonably good openings."
Newbies vs comeback
Ishaqzaade is Arjun's first film ever and Parineeti Chopra's first in a lead role. She garnered a substantial fan following after her award-winning performance in Ladies Vs Ricky Bahl. Arjun has created a good impression in the trailers, especially in the song Chokra jawaan hai. Meanwhile Karisma has already scaled the peak of her career. She has more films to her credit than the combined ages of the two newcomers. With no star heroes to back her up, Dangerous Ishhq will initially appeal to those who still remember her memorable performances from ten years ago. Nahta says that Karisma is a huge draw for Dangerous Ishhq, but wethink Ishaqzaade has a slight edge. "There is a charm in watching newcomers which will help Ishaqzaade," says Nahta.
Romance vs rebirth
Ishaqzaade has a time-tested story: a boy and a girl belonging to two feuding families fall in love. It's worked every time – whether it's Romeo And Juliet or Qayamat Se Qayamat Tak. Dangerous Ishhq is based on another of Bollywood's favourite themes: reincarnation. Vikram Bhatt has tried to update it by including past life regression but it essentially remains another punar janam (rebirth) story with dollops of romance. Rebirth hasn't worked as well as romance has in Bollywood. Nahta gives them an equal chance. "Ishaqzaade's trailers are impressive. The songs have done well. DI is a thriller genre made in 3D and brings past life regression to the big screen for the first time," he says. The film which can bring freshness to the jaded concept will win the race.
Yash Raj Films vs BVG Films and Dar Motion Pictures
As a YRF production, Ishaqzaade has an edge when it comes to marketing. The film has been promoted very well indeed, with both the stars making appearances at several events. They have also stayed away from the usual publicity gimmick of inventing a romance between the lead actors. Whether they did it in deference to Arjun's recent bereavement we can't say, but it is a refreshing change from the way Rockstar and Band Baaja Baaraat were promoted. Dangerous Ishhq's publicity hasn't been in-your-face. We've heard stories about Karisma undergoing past life regression in her real life, about how happy she is coming back to Bollywood and we've watched special promos but that's about it. Leading men Jimmy Shergill and Rajneesh Duggal have been kept away from the promotions. That's why if Ishaqzaade becomes a hit, it will be an expected outcome, but if Dangerous Ishhq does well, it will be surprise hit.
Chokra jawaan hai vs err… what was it again?
Exactly. Ishaqzaade's songs are already chartbusters but ask anyone which is their favourite DI song and you are bound to get the reply, "Does it even have any songs?" YRF and the Bhatts are known to have good music in their films. Since DI is a thriller, it seems Vikram Bhatt has not focused on the music to a large extent. Yash Raj on the other hand has delivered yet again. Himesh Reshammiya's music has not shattered the charts the way you would have expected it to especially after Bodyguard. Amit Trivedi walks away with the honours in this face off.
Which film are you eager to watch? Ishaqzaade or Dangerous Ishhq? Or neither?