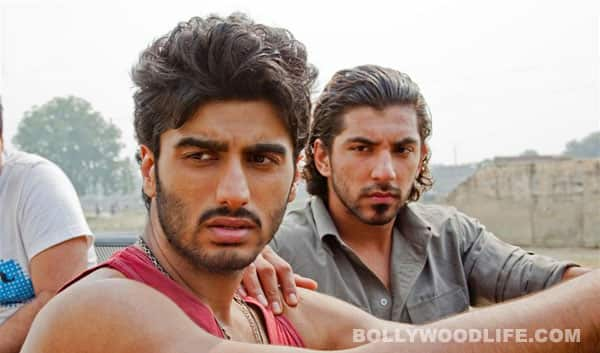 The Dabangg Khan is a popular man. And his absence from a movie does not mean that he is not remembered. And here's how Ishaqzaade director Habib Faisal and male lead Arjun Kapoor do it
When we first heard about Arjun Kapoor-Parineeti Chopra starrer Ishaqzaade we also read Salman Khan's tweets promoting the young man. For those wondering what links the two, it was Salman who motivated a once-motu Arjun to lose weight, get into shape and step into the acting arena.
So Boney Kapoor's son decided to pay tribute to his mentor, albeit with a li'l help from director Faisal. And he did so by mentioning Salman Khan's popular movie Dabangg on his…er…bum. Don't believe us? Watch the trailer of Ishaqzaade closely and you will see the name of Sallu's movie in Hindi, printed in red on the behind of Arjun's dirty grey pants. Now that's some tribute, eh?
No wonder we woke up to the reports of Salman snubbing the debutant by refusing to promote him on Twitter. Dear Arjun, next time you want to pay tribute to someone special, please do so by using some respectable body part. Wink, wink.
ALSO READ: