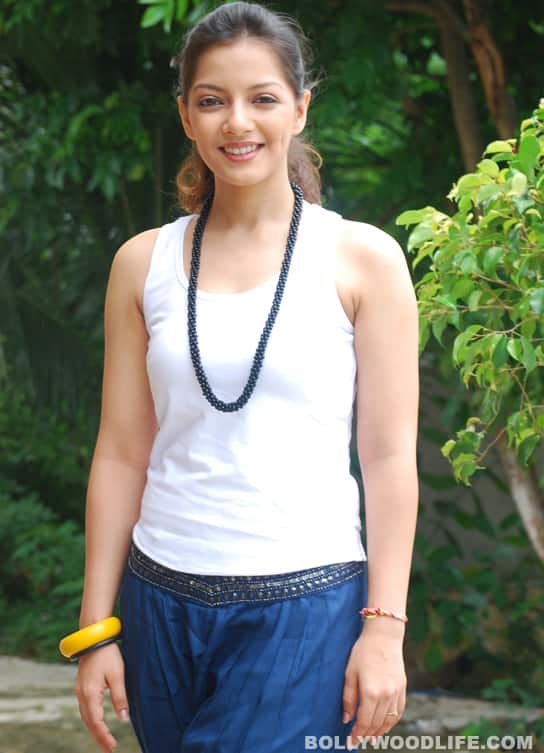 She may be petite, but is a powerhouse of talent. Ishita Sharma stepped into Bollywood with a prime role in Dil Dosti Etc and went on to play the parallel lead in Shahrukh Khan's Dulha Mil Gaya. She later moved to television as Angie of Sony television's hit show Kuch Toh Log Kahenge and has found a loyal fan following
The bubbly actor talks about co-star Vishal Malhotra's gags and what hubby Mohit Chadda thinks about her new role…
What made you take up a supporting role in Kuch Toh Log Kahenge?
Frankly – I believe I am very choosy. For me to opt for a show, it has to be something that I can truly contribute to as an actor and the team I act with has to be good.
How did the offer come to you?
Rajan Shahi offered me this role. We know each other for about five or six years now. When he offered me this role, initially I said no. But he convinced me and since I have a great rapport with him, I took it up.
So is the romance between Angie and Dr Ranganath going to bloom?
Angie is a very practical girl and finds it hard to believe that Dr Ranganathan harbours true feelings for her. According to her, he is only flirting, like he does with all the other girls. She likes him, but doesn't want to risk getting hurt. He is basically becoming a victim of her mood swings, for now.
We saw you doing a pivotal role in Dulha Mil Gaya and Dil Dosti Etc. Were you offered any films post that?
Well, I am too busy to do anything. All my time is dedicated to this show at the moment and I don't find time for anything else.
You were pursuing movies at one point. Why the sudden shift to television?
Like I told you earlier. Rajan Shahi convinced me. I was not doing anything at that time except for a few ad films. When he offered it, I took it like an experiment. And plus, the kind of films offered to me during that time was not good enough.
Do you support the idea of the age difference in relationships depicted in Kuch Toh Log Kahenge?
I totally believe that love knows no bounds and if two people know how to handle such a relationship, it's cool. Feelings should not be curbed or be made on the basis of age or language.
What has the response been to your character on the show?
So far it has been great. I can't judge myself since I am very critical about my performance, but other people have told me they like my track. My parents are also glued to the TV when my show is aired. So all in all I think it's going well.
If you were not an actor, what would you be?
As a child I wanted to be an astronaut, but somewhere acting was always on my mind. Till my junior college it was either medical or engineering, but then I switched to psychology in my third year.
What do you do when you're not busy shooting?
I am currently pursuing my Masters in Human Development and have been learning classical dance.
Besides your show, does any other show on Sony or other channel keep you hooked?
I watch my own show on YouTube, so there's really no time for anything else.
How similar or different is Ishita to Angie?
Ideally, I am nothing like Angie. I don't believe in right or wrong, but Angie is way too practical. She is too complicated and I believe in simple things and thoughts. Plus, I know nothing about fashion designing and I definitely don't dress like Angie.
Do you feel threatened with Krittika Kamra getting all the limelight?
Actually I am quite fond of her; we share a great rapport which reflects on screen as well. It's important to like who you work with and I have a blast working with Krittika.
Is Vishal Malhotra a prankster in real life as well?
Vishal is a nice guy and totally cool to work with. He makes a constant effort to make a scene look better and we spend a lot of time rehearsing our parts. He is too funny and cracks you up with his mischief on the sets, especially when he says all the wrong dialogues.
What's your plan post this show?
I can't do too many things at a time and I am anti-planning. I believe in living in the moment. So I have not yet planned my future. I am enjoying my work and my married life right now.
You are newly married – what does your husband think about your show?
I married Mohit (Chadda) only last year. He watches my show with me and I believe he likes it.