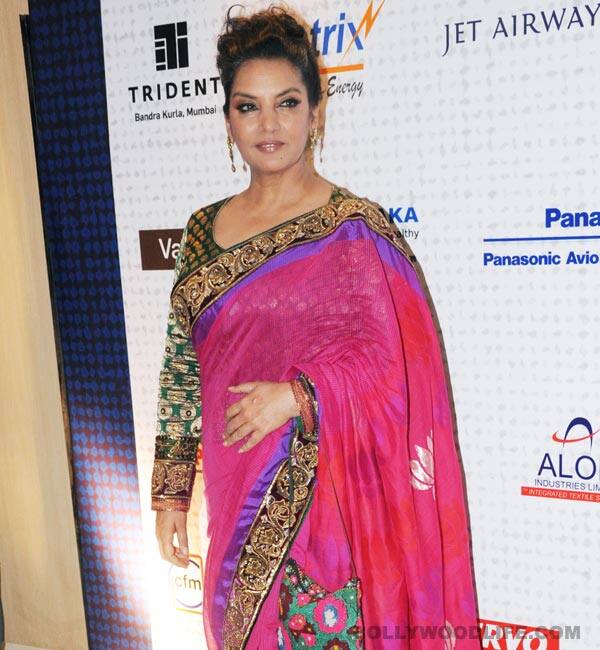 The veteran actor phoned a FM channel airing the Teri maa ki number from I Don't Luv You and asked why it was being played. She launched a verbal war of sorts on a social networking site against the song, its lyrics and the lyricist. But did Shabana pick on this particular track because it is from a low-key production that won't fight back?
Known for her incredible body of work both onscreen and off it in various different avatars – as an actor, a social worker and an informed opinion maker – Shabana Azmi is considered the intellectual who speaks on various issues with a no-holds-barred approach. She has been discussing voyeurism, the way sex is projected in Indian cinema and the impact it has on our diverse society as well as our collective consciousness time and again, on various platforms. And we certainly respect the lady for that.
But this time around, honestly speaking, wethinks Azmi has gone a little too far. And at the receiving end is a song that might be objectionable in its quirky lyrics, but certainly is not something about which a major hue and cry should be raised. It so happened that Ishq ki maa ki from I Don't Luv You – which releases this week – was playing on an FM channel when Shabana heard it; she immediately picked up her phone and called the radio jockey demanding why it was being played. The furious actor did not stop there; she angrily tweeted, "I cannot believe the song 'Ishq Ki Maa Ki' has been written by a woman Pallavi Mishra. Revolting shameful disgusting and condemnable".
It turns out that the song that offended Shabana has not been written by Pallavi, but by Amit Kasaria, who has also directed the film. In his defense, Amit maintains that his song is not offensive. "I have the highest regard for Shabanaji. She doesn't seem to know that I wrote the song that has offended her. And I wonder why it has offended her! I am a young and new filmmaker, so I am an easy target. Vulnerable sections of people are easy scapegoats to justify moral attitudes. my song doesn't insult women in any way. It only expresses the frustration of the young in love. My film is not anti-women at all," said Amit in an interview.
Now what has us foxed about Shabana's stand on the whole issue is why she had to wait to launch an attack on a song from a small-budget film. Was the 'socially-responsible' Azmi hibernating when so many other numbers like of Munni badnaam, Sheila ki jawaani, Bhaag DK Bose, Karma is a bitch, Teri keh ke loonga, Chikni chameli , et al from big-budget films from far bigger production houses were being aired constantly and the whole country was dancing to their thumping tunes? Were they not offensive and provocative? Or is it just that taking a stand against a small time filmmaker like Kasaria is much easier than going against producer-directors like Aamir Khan, Farah Khan, Anurag Kashyap and Karan Johar?
Will the real Azmi please stand up and explain this one?