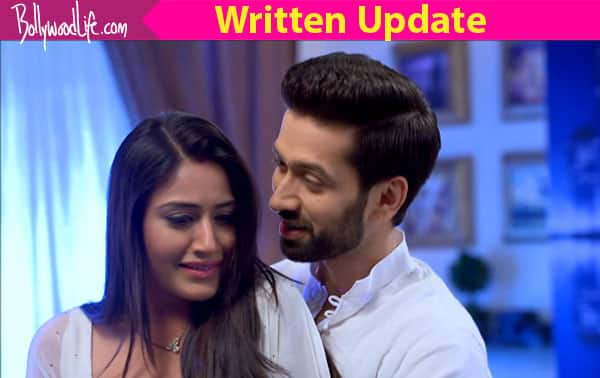 Ishqbaaz begins with Om (Kunal Jaisingh) saying he has no problem if Svetlana (Reyhna Malhotra) lives in the Oberoi mansion. Shivaay (Nakuul Mehta) says that Svetlana saved Tej's life, we need to take proper care for her. Om also consents to it. Rudra (Leenesh Mattoo) says it is payback time. Tia (Navina Bole) and Svetlana wonder how the three brothers agreed. Om says it is because of Anika (Surbhi Chandna) that we consented for it. A flashback is shown where Anika tells them that Svetlana was in charge of security and how she happened to be at the spot where Tej's car crashed. They make a plan and decide to keep Svetlana in Oberoi mansion.  Shivaay says we must expose her before papa. She tells Tia that the brothers must be having doubts on her and they are trying to catch them red-handed. She says we have to be cautious.
Rudra says how can her slippers be burnt if she cannot walk. Anika and Shivaay decide to find out if she is really bed-ridden or not. Rudra distracts the nurse while Anika mixes red chilli powder in Svetlana's khichdi. They keep a watch to find out if she gets up to get water or not. Svetlana yells for the nurse to bring water. All the brothers spy over her. Svetlana wonders whether to get up or not. Anika says you do not know the power of red chilli powder. Shivaay and Anika get close. They find Om and Rudra staring at them. Finally, Svetlana gets up from the bed but Tia comes there. She is shown talking to the doctor. Tia spots Svetlana rising up and signals her to go back. Shivaay tells Anika that her plan is damn stupid. Svetlana tells her nurse to give her water.
Anika says I have another plan. Svetlana asks the nurse who cooked her food. She says the same cook who makes it daily. Svetlana says someone deliberately put lots of red chilli in my food. Tia says it was Anika who did this. Inside, Svetlana's room they look for a clue that proves that she can walk. She says we found something. Tia tells her that Anika is trying to find out if she is really bedridden or not. Tia says we have to be extra careful about Anika. Inside the room, Anika says I smeared haldi on Svetlana's plate and we can see haldi marks on the sofa. Shivaay says this means she is the mastermind. Tia tells Svetlana to eliminate Anika first. She says that killing Anika is the last option. Svetlana says we will poison Pinky's mind against her and have her thrown out of the house.
Tia tells Pinky that Shivaay has no time for her and is busy with Anika.