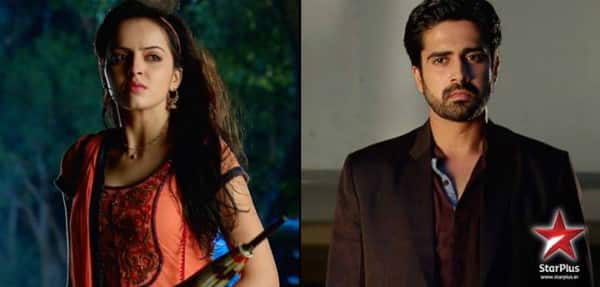 The first season was all about the rich vs poor divide, while the second season hinges on the classic battle of the sexes
Man or woman – who do you think is better? Now that's been an ongoing argument for eons, with no real winner. And that is the new debate on the second season of Iss Pyaar Ko Kya Naam Doon, a popular show that starred Barun Sobti and Sanaya Irani in its first season. Riding on its popularity, the makers decided to come back with Season 2. Iss Pyaar Ko Kya Naam Doon…Ek Baar Phir is all about the love-hate relationship between Aastha Kirloskar (Shrenu Parikh) and Shlokh Agnihotri (Avinash Sachdev).
Shlokh is in the business of education, which also includes building schools and colleges. His father Niranjan (Manish Wadhwa) commands respect in society for the work he does for unfortunate women and children. He hates his mother Anjali (Geetanjali Tikekar) for something she did a long time ago that changed his life drastically. Niranjan seems like a calm person, who never gets angry and believes in justice. Anjali, on the other hand, is sexist and doesn't believe in gender equality. She is of the opinion that men are kings and women are only meant to serve them. Shlokh takes that from his mother. He believes that women are weak and are being arrogant by comparing themselves to men. They should not have an opinion and it's a waste to give them any rights, he insists. The only words a woman should utter are 'Thank you' and 'Sorry'. Now that irks us a little bit…okay, a lot. Let's hope things change soon.
The Kirloskars are a middle class family who are free thinking and consider their daughter Astha's happiness to be their first priority. Kalinidhi (Prachi Shah), Avdhood (Tushar Dalvi) and Aaji love Astha and have always believed that their daughter is not less than anyone. Astha is a soft-hearted person who just can't see something wrong happening and ignore it.
The show starts with Astha getting on the wrong foot with Shlokh. Their first fight happens when she accidentally takes his concert tickets for women from the old age home. Shlokh insults her in front of the entire audience. Their second fight happens on the train when he loses his wallet and is caught by the ticket collector. He believes Astha stole his wallet to take revenge. Their third fight – this was a big one – happens when Shlokh catches four students leaking exam papers. But he expels only the girl involved. Unfortunately for him, she is Astha's friend – and Astha fights tooth and nail to get her justice. Things take a turn for the worse when the media gets involved and humiliates Shlokh's father for being a hypocrite. Shlokh vows to teach Astha a lesson for ruining the reputation of the only man he loves.
The story so far seems to be pretty good, with a watchable subplot. The concept of men vs women is being explored beautifully and as the battle of sexes progresses, it should get more intense.
Avinash Sachdev as Shlokh is very good, so much so that we are ready to forgive the makers for not bringing Barun Sobti back. AS does complete justice to the character of being a chauvinistic pig. Shrenu Parikh (Astha), however, does not match up to the potential of her character; she can't match up to Sanaya Irani's talent. And the chemistry between the two actors is just not as sizzling as we want it to be. Manish Wadhwa is a big mystery. We still haven't figured if he is the bad guy or the good one. Geetanjali Tikekar seems wooden, while Prachi Shah and Tushar Dalvi as Astha's parents are pretty natural.
All in all, we like the show and the potential it has to make it big. However, we are not happy with the time slot – with better timings, there's a chance the makers can actually pull in a lot more viewers. As long as they keep up the pace of the show, it is likely to get great TRPs.
Rating:
out of 5
Reviewed by Letty Mariam Abraham
* Poor
** Average
*** Good
**** Very good
***** Excellent