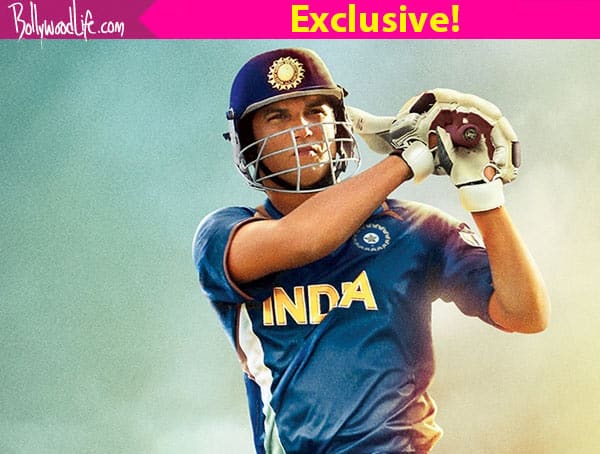 So far, we have been liking Sushant Singh's avatar as Ms Dhoni.. Sushant, who will next been seen in Ms Dhoni: The Untold Story looks like a carbon copy of the Indian cricketer on whom the film is made. But do you know that it wasn't very easy for Sushant to get into the shoes of Dhoni! We met Kiran More, the man who coached MS Dhoni and trained Sushant for the role and he revealed it exclusively to BollywoodLife that it wasn't very easy to train Sushant. "Initially, it was very difficult for me to train Sushant. Right from the body language to the posture to everything.. it was a tough task! Sushant wore the hand gloves for the first time ever in his life and we used to train for at least 4 hours every day. The first 20-25 days were initially very tough until slowly and steadily Sushant started showing much progress..," he said.
"And look at him now, on the poster, in the film, he looks just like Dhoni. Sushant has put in a lot of effort for this and now it has all paid off," he continued.
Clearly, it wasn't cakewalk for Sushant to play a cricketer onscreen. He put in a lot of efforts to get into the skin of the character and underwent rigorous training for the same. (ALSO READ: EXCLUSIVE: Sushant Singh Rajput and Kiara Advani romance with their eyes in this still of MS Dhoni: The Untold Story song Jab Tak)
"He (Sushant) has worked very hard. He was practicing every day for more than nine months. He was batting every day for over three hours when it comes to portraying the (cricket) shots. Also, the way I walk, the way I talk, he has copied almost everything. In fact, I was amazed to see him do all these things," Dhoni said earlier in a statement.
MS Dhoni: The Untold Story is helmed by Neeraj Pandey who has given us films like A Wednesday, Baby and Rustom. The film is slated to release on September 30. Along with Sushant, the film also stars Disha Patani and Kiara Advani in key roles. The trailer of the film was released in August and had received positive response. MS Dhoni himself presented the trailers of the movie and was even present at the various launches that took place at various cities.
Sushant Singh Rajput flaunting his abs

Sushant grew gradually in the industry from a debutant Tv actor to Bollywood's favorite guy.

Image credit: Instagram

Sushant Singh Rajput snapped prior to Lake Fashion Week 2016

Sushant gave a cute caption to this image, "Waiting for Manish Malhotra to cover me up".

Image credit: Instagram

Sushant Singh Rajput dazzling during a photoshoot

Sushant have been killing girls with his dapper looks after debuting in Bollywood with 'Kai Po Che'.

Image credit: Instagram

Sushant Singh Rajput snapped during a vacation

Sushant knows how to and when to show off what to gain maximum attention.

Image credit: Instagram

Sushant Singh Rajput's Saawariya moment

Sushant hold your towel before it slips and brings you girls all around.

Image credit: Instagram

Sushant Singh Rajput flaunting his toned body

Sushant looks even hotter during his work out sessions.

Image credit: Instagram

Sushant Singh Rajput during a photo shoot

Sushant looks like ruling he shoot with his oomph and attitude.

Image credit: Instagram

Sushant Singh Rajput snapped prior to an award ceremony

Sushant can bring women on their knees with this hot look of his and we are eagerly waiting for many more to come.

Image credit: Instagram