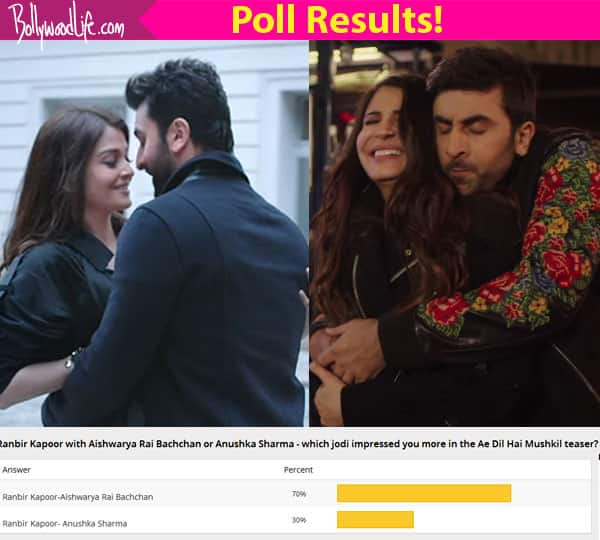 Ever since the teaser and title track of Ae Dil Hai Mushkil were out, we all are just figuring out whether Aishwarya should have chosen this movie as her comeback venture. The actress who shares many intimate scenes with her co star Ranbir Kapoor in the movie, has shed all inhibitions and their pairing together does set the screen on fire. The movie which also stars Anushka Sharma has left us confused whether the actor will be romantically involved with both the actresses? He has his share of fun scenes with Anushka but till date there is no intimacy shown between them. But not every time you need chemistry right? There are chances that Anushka and Ranbir's friendly bond will outdo Aishwarya and his chemistry. So just out of curiosity we decided to conduct a poll to check whose pairing with Ranbir impressed our readers the most.(Also Read: Ranbir and Aishwarya's intense chemistry maked Bulleya song an instant hit)
We expected Anushka to win since this is her second movie with Ranbir post Bombay Velvet and the age factor is same but we were proved wrong. It was Aishwarya who was successful in beating Anushka. Surprisingly, it is Ranbir and Ash's jodi that has emerged as a clear winner. The pairing has received over 70 percent votes. Yes! That's the number, while Anushka and RK's pairing has got merely 30 percent of the votes which is surprising.(Also Read: Vote for your favourite Arijit Singh's number from Shivaay and Ae Dil Hai Mushkil)
Since the teaser is out, everyone is writing how ADHM should have been Aishwarya's comeback film. Ash looks extremely gorgeous and this was the beauty fans have been missing over the years. Ash who made her comeback with Jazbaa and later did Sarbjit couldn't manage to impress the audience and get box office numbers. Though Ash was appreciated for her acting skills, fans did not like the film. Ash looks super gorgeous in every frame and anyone and everyone just cannot take their eyes off her.  I had to watch the trailer thrice to register other actors. Now's that's the charm of the actress.
Apart from Ash's flawless beauty, her pairing with RK is fresh and we have never seen the lady do such an intense romantic film. Going by the teaser one can make out that Ash has left no stone unturned for this film. Her intimate scenes has become the talk of the town and there were lots of reports doing the rounds how the Bachchan family is extremely upset with Aishwarya. And BollywoodLife exclusively reported that Bachchan family is NOT at all upset with their bahu. In fact Karan Johar who is close to the family, shared every detail of the script with them, so naturally there was no rift.
So we can understand why our readers voted for Ranbir and Ash's chemistry and not for Ranbir-Anushka. They are simply HOT in the songs!
Anushka Sharma's still from Ae Dil Hai Mushkil teaser

Anushka is once again seen in role of a bubbly girl who plays love interest of Ranbir Kapoor in the movie.

Image credit: Youtube

Fawad Khan's still from Ae Dil Hai Mushkil teaser

Fawad is also seen in second half of the teaser and gives a dramatic twist to the love triangle.

Image credit: Youtube

Aishwarya Rai and Ranbir Kapoor's love in Ae Dil Hai Mushkil teaser

Ranbir is dating Anushka and Aishwarya both in the movie and Fawad plays love interest to Anushka too.

Image credit: Youtube

Anushka Sharma and Ranbir Kapoor's still in wedding attires

The teaser does not reveal that who is getting hooked with whom in the movie.

Image credit: Youtube

Ranbir Kapoor's singing still from Ae Dil Hai Mushkil teaser

Ranbir's this look resembles his hurt look from Rockstar movie.

Image credit: Twitter