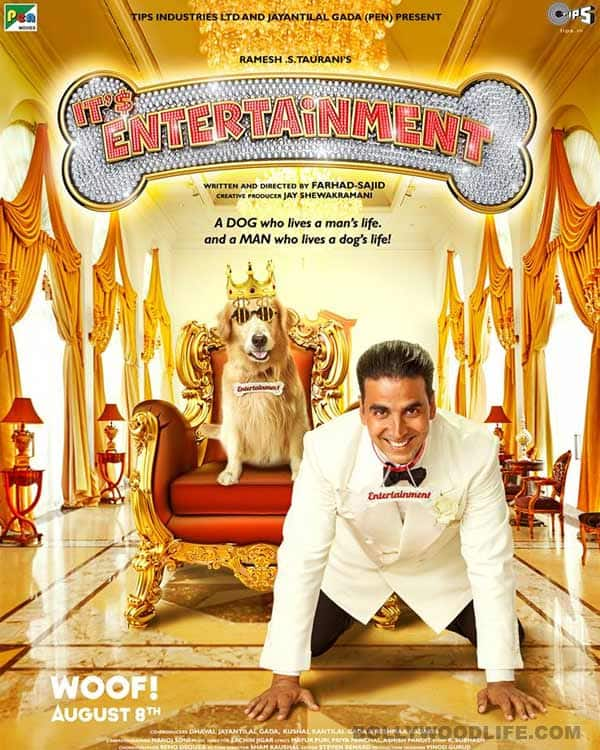 The Holiday star is all set to tickle your funny bone with his new doggie avatar
The makers of Akshay Kumar's latest film, Its Entertainment are out with the first poster of the film. By glancing at the first look, you definitely get a feel that it will be one of those Akshay Kumar slap stick comedy flicks where he takes center stage and doesn't allow anyone else to stand in front. Its Entertainment, directed by Farhad-Sajid, will be Akshay's next release after Holiday. The film is all set to hit theatres on August 8, 2014.
The trailer of the film will be released anytime today, but till then we are left wondering as to what the story line would be all about. If we look at the poster we can see a golden retriever sitting on a golden throne with a golden crown on its head. Also we can see Akshay Kumar sitting in front just like a dog with a big doggie-like smile on his face, which looks more of a smirk. The film seems to be more cheesier than anything Akki has ever done which comes with a tag line "A dog who lives a man's life. and A man who lives a dog's life!"
We already have some speculations about the movie's storyline but that would be too harsh to spoil the fun. So let's wait for the trailer to be out today and we shall divulge more about it then. For now, have a look at Akshay turning into a dog and enjoy!