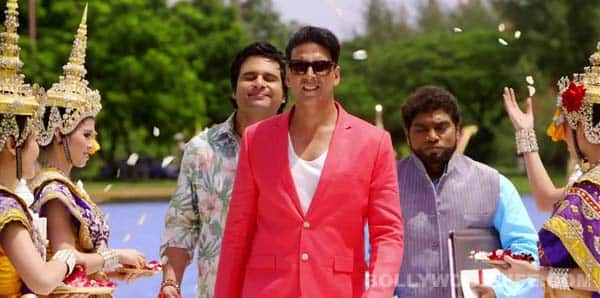 Coming from Akki's stable this film is just like many of his previous films which don't have any logic to anything happening onscreen. Read on to know why…
Akshay Kumar is out with his latest film Its Entertainment. The film will be Akshay's next release after Holiday and it will also star Tamannaah, Johnny Lever, Mithun Chakraborty, Krushna Abhishek, Sonu Sood and Prakash Raj. By glancing at the trailer, you definitely get a feel that it is one of those Akshay Kumar slapstick comedy flicks which will be panned by all critics and still manage to earn big bucks. Directed by Farhad-Sajid, the film is all set to hit theatres on August 8, 2014.
The storyline of the film doesn't seem to be very captivating. Akshay seems to be a poor fellow who turns rich overnight by the fate of luck, just to know that all his property has already been taken over by somebody else. That somebody else turns out to be a dog. The story seems to be revolving around how Akshay tries to get his wealth back from the dog and how at every stage the dog defeats him badly. The film seems to have given real shooting locations a miss, as most of the trailer seems to have been shot in green rooms. The editing of the trailer seems quite average, and by that you can gauge how great the film would be (wink).
The film seems to be more cheesier than anything Akki has ever done which comes with a tag line "A dog who lives a man's life. and A man who lives a dog's life!" We are already feeling bugged up thinking about the fact that we would have to go watch this film and review it when it releases. For the rest of you who love such comedies, go ahead watch the trailer and give your brain some rest!