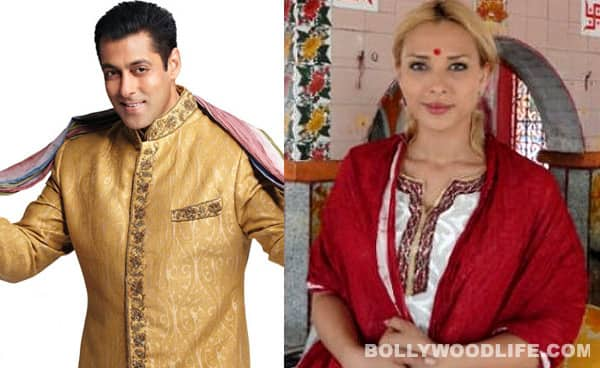 Who is Salman Khan's new girl? Cineswami tells us all about her
There has been much speculation about Iulia (also known as Lulia) Vantur, the Romanian beauty who Salman Khan is dating/has married/is going to marry – take your pick – and who is staying with Salman's parents at their temporary digs in Bandra while their apartments are being renovated/staying at Salman's Panvel farmhouse/staying at the flat Salman has bought for her – take your pick.
In the middle of all these speculations, not much is known about who exactly Iulia is and hence beholden by duty to you, our loyal readers, here's the lowdown. Iulia will turn 33 on July 24, a mere eight days after Katrina Kaif turns 29 on July 16. Spring chicken Salman will turn 48 on December 27.
Iulia was born in Iasi, a breathtakingly beautiful city known as the cultural capital of Romania. Iulia had plenty of space to enjoy the beauty and culture of her city because with a population below 3,00,000 there are less people there than in say, Vashi (Navi Mumbai). Iulia began her career as a television presenter at the tender age of 15. However, she did not neglect her education and completed a degree in law. This should come in handy if Salman goes behind bars for his involvement in the hit-and-run and blackbuck cases.
In 2006, Iulia moved to Romania's capital city Bucharest, which, with a population of 1.7 million proved a better training ground than Iasi for the heaving 21 million mass of Mumbai where she would eventually move. A stint as an anchor on breakfast news bulletins got her noticed, but she really arrived when she was on Romania's version of television show Dancing With The Stars, hosted by Stefan Banica Jr on Pro TV, the country's version of Doordarshan.
Elsewhere in Romania, on December 30, 1981, a child was born in a historic city. Since the city is named Alba Iulia, it was perhaps destined that the boy Marius Moga would grow up and be with his aptly named soulmate Iulia. Moga moved to Bucharest in 1999 and soon became a popular musician. During the course of his peregrinations he met Iulia, they fell in love and commenced a relationship.
In the summer of 2011, Salman was shooting Ek Tha Tiger in Dublin. He knew Marius Moga because the musician had helped him get the rights of a popular Romanian song by Cleopatra Stratan that was eventually adapted by Himesh Reshammiya as Teri meri in Bodyguard. Marius happened to be in Dublin with Iulia and dropped in on the Tiger set. That was where Salman first laid eyes on Iulia. Later that year, Marius and Iulia came to India on holiday. It is not clear whether they met with Salman on that trip.
In 2012, the unthinkable happened – Marius and Iulia, Romanian pop culture's golden couple, broke up. It wasn't easy on Iulia and she had to schedule visits to the shrink to get over her mental trauma. On one of his globetrotting trips, Salman ran into Iulia and quickly became a shoulder for her to cry on. As happens so often, the friendship deepened and ripened and Iulia is now well on her way to becoming a Mumbaikar.