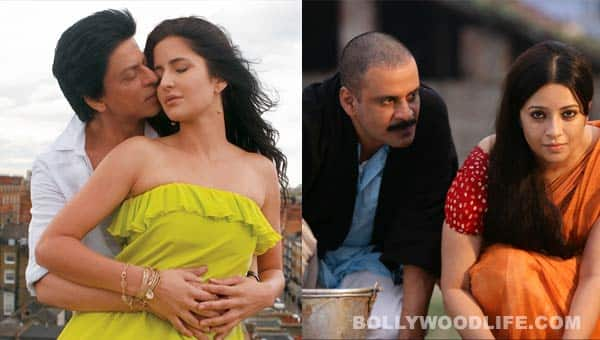 Cineswami takes a look at the Indian commercial as well as indie films of 2012 that did well abroad
As 2012 draws to a close, it is inevitable that top 10 lists will abound and Cineswami is no exception to list-mania. However, rather than the usual top 10 Bollywood films, here's a list of movies that made a mark amongst discerning audiences across the globe.
10. Aaranya Kaandam
Thiagarajan Kumararaja's stunning Tamil noir Aaranya Kaandam wowed London audiences and showed them that India has her own answer to Quentin Tarantino. The dense, layered gangster epic featured Jackie Shroff in his first ever Tamil film role as a mafia don with a failing libido. Even the organisers of the London Indian Film Festival were surprised when the movie scooped the audience award, beating Gangs of Wasseypur.
9. Dekh Indian Circus
Mangesh Hadawale's delightful little film about the travails of an indigent family wanting to visit the circus is also a parable for larger socio-economic events in India. It features a winning performance from the immensely talented Tannishtha Chatterjee and the now ubiquitous Nawazuddin Siddiqui, the breakthrough arthouse performer who also featured in Talaash in a pivotal role alongside Aamir Khan. It won the audience award at Pusan and the Golden Reel at Tiburon.
8. Ek Tha Tiger
Kabir Khan's answer to romancing RAW and ISI agents effortlessly thumbed its nose at the dud Agent Vinod. Of course, it had the benefit of Salman Khan starring. It made headlines in Europe as being the first major Bollywood film to shoot in Ireland.
7. Ship Of Theseus
Anand Gandhi's philosophical treatise on the very nature of life may be heavy going at times for the lay Bollywoodlife reader corn-fed on a diet of Dabanng 2, but the film is definitely rewarding. Clearly audiences abroad thought so and it won a special mention at the London Film Festival and awards at the Tokyo and Dubai fests besides screening at Toronto and being chosen for next year's Rotterdam fest.
6. Shahid
Hansal Mehta's comeback film is a masterly testament on human rights and features a standout performance from Rajkumar Yadav who played Aamir Khan's sidekick in Talaash and will be seen soon in Kai Po Che. Festival play includes Dubai and Toronto and hopes are high for an India release.
5. Peddlers
Anurag Kashyap's former assistant Vasan Bala's debut is a look at a Mumbai that couldn't be more different from the clichéd imagination of Bollywood. Instead of a teeming metropolis, he captures a city of spaces and distances, both emotional and physical. Played and wowed Cannes, London and Toronto.
4. Thuppakki
AR Murugadoss' welcome return to form after the disappointing 7 Aum Arivu proved a lion at the overseas box office, especially in the UK where it cracked the top ten in its week of release. Aided by Santosh Sivan's ace lensing, Vijay proved that he is indeed the Ilaya Thalapathi as the only films that have done better than his in the territory feature a certain Rajinikanth.
3. Gattu
Rajan Khosa's sophomore feature Gattu has a winning performance by Mohammed Samad as a pint-sized kite flier at its core. Though its India performance could have been better, audiences overseas lapped up the simple and well-told tale. Festivals included London, Berlin, Edinburgh, Zurich and Dubai.
2 and 1. Tie between Jab Tak Hai Jaan and Gangs of Wasseypur
This is a most unusual tie between films that couldn't be more different from one another. Anurag Kashyap's sprawling and violent gangland tale Gangs of Wasseypur not only won international plaudits and distribution and considerable festival play, but also a place on the jury of the Sundance Film Festival. The film is tied with Yash Chopra's swansong Jab Tak Hai Jaan. While Wasseypur has the overseas acclaim, the Shahrukh Khan starrer proves that he is a huge revenue earner abroad, earning millions of dollars across the world in addition to remaining a huge draw in India. Iconoclastic choices? Sure. But that's Cineswami for you, just to keep you wrong-footed.
Happy New Year.