JAB TAK HAI JAAN song Challa: Shahrukh Khan meets Katrina Kaif
BollywoodLife
Last Updated: 5.46 PM IST 11.08.2012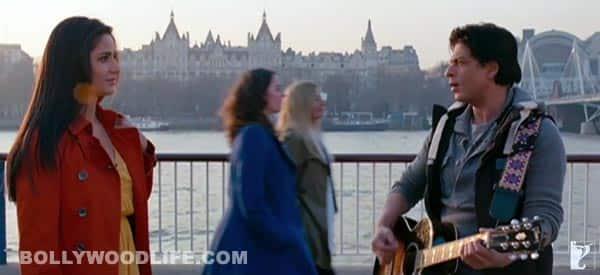 Sign up for the BL newsletter!
Watch the melodious new song from Yash Chopra's new musical
Here it is: the first song of the year's most awaited musical, the Shahrukh Khan-Katrina Kaif-Anushka Sharma starrer Jab Tak Hai Jaan. As expected, AR Rahman has come up with a catchy song that grows on you as you listen to it. The lyrics of Challa are written by Gulzar in Punjabi and will therefore take a while to sink in, but for starters the hook line means 'What are you searching for, oh bohemian?'. Just as with translations of the poem in the posters, we hope this song will be morphed into Hindi so that everyone can understand it better. Talking about this song Yashji said, "Challa from JTHJ is my fav song & it is the song of the film, it is the soul of the film."
The video captures the beauty of London. Shahrukh is seen wandering through the streets, strumming his guitar and singing the hummable song with all the body language only he can convey. King Khan does odd jobs – washing cars, busking, hauling crates of fish – like he did in My Name Is Khan when he desperately wanted to make money. We wonder what he is looking for in JTHJ…Does he find it when he sees Katrina Kaif as she drops a coin into his hat? Wonder where the story goes from here…
Challa is sung by Rabbi Shergill and is a breath of fresh air in the usually cliched filmi soundtrack we hear these days. Dear Bollywoodlifer, did you like the song?
ALSO READ: JAB TAK HAI JAAN theatrical trailer: Shahrukh Khan, Katrina Kaif & Anushka Sharma look fab!
First Published: 12.56 PM IST 10.01.2012