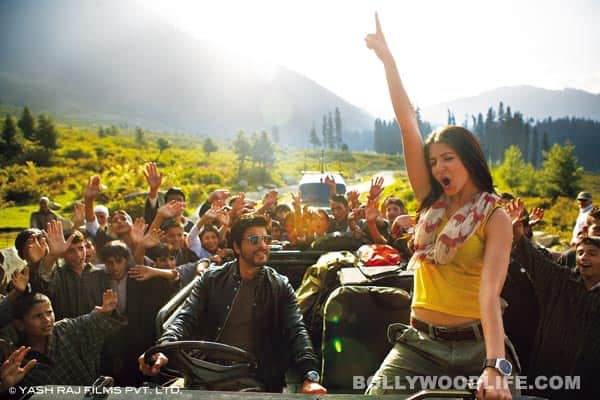 In spite of more than a dozen glaring flaws that we could find, Yash Chopra and Shahrukh Khan – and, of course, Katrina Kaif, Anushka Sharma and the rest of the Yash Raj Films gang – managed to rule the box office with the year's biggest hit so far
Okay, so we weren't expecting a watertight love story in Jab Tak Hai Jaan. We weren't even hoping it would be unpredictable or something we couldn't figure out at all. A good ol' fashioned classic love saga featuring Shahrukh Khan directed by Yash Chopra would have been entirely palatable, and we could have come out of the theatre all happy with the knowledge that our logic and sense were respected. But sadly, it wasn't to be! In many parts in the story, Jab Tak Hai Jaan not only tested our brains – which we forgot to leave at home, since no one told us we should – but actually assaulted them and defiled that delicate ground between cinematic liberty and pulling bunnies outta hats!
Anyway, so here we are, taking a brief look at how our senses were flayed by sheer illogic. We won't go the whole hog, we promise! We're just looking at plot flaws that were so obvious that we couldn't help giggling out loud!
Anushka is the real superhero! Anushka Sharma is way more hardcore than the Kamikaze-like Shahrukh who defuses bombs without a safety suit – and that's another point. She is even more of a brute than all the Army jawans put together. Where they wear light sweaters for the day and full cold gear by night, our babe roams around all pretty, dressed in teenie little shorts in the snow-covered valley.
Because God says lovin' ain't cool business! Wasn't Jesus all about love? So what makes Katrina, who is a Punjabi anyway (secularism, okay!), make the dumbest most pathetic promise ever made?! Why oh why would she want to promise God that she will never be with the love of her life? Sure, she has demons from her past haunting her, but loving someone and taking a mortal promise to not love them, all for no apparent reason, seems a bit daft. Not a bit….VERY daft!
Learn Punjabi in one song! Learning English is easy business for our boy Shahrukh aka Samar Anand, since he's selling fish to grumpy Brits all day. But we couldn't digest how Katrina could learn Punjabi by singing a rustic ballad, which even the Chopras would have had a tough time learning!
A rather unusual bomb squad! Okay, we have seen bomb squad officers being gung-ho about their job, and diffuse them nasty things minus safety suits. But Shahrukh crosses limits. The dude defused bombs like he would repair the fuse for his local light connection!
Buffalo soldier! Which army in the world recruits a cook from London as a soldier, and one who is well past the prescribed age and into his late 20s? Professional armies, as far as we know, do not operate like that. Mercenaries do! And so do terrorists…
Watch both sides before you cross! The film scares you out of your wits by using a very clever plot line. The seemingly innocent act of crossing the road becomes a turning point in the film. After Shahrukh becomes a chronic accident victim, it's tough not to shout out loud at the screen when any actor in the film – or any other, from now on – so much as approaches a street!
My name is Samar, and now I ain't a terrorist! When Shahrukh has seen firsthand and in person off-screen what it is to be Asian, being body-searched at random and being detained at airports for hours, we wonder just how he could so nonchalantly walk up to a bomb in the UK, introduce himself and defuse the darn thing? And all this while his memory as a bomb expert is just beginning to return!