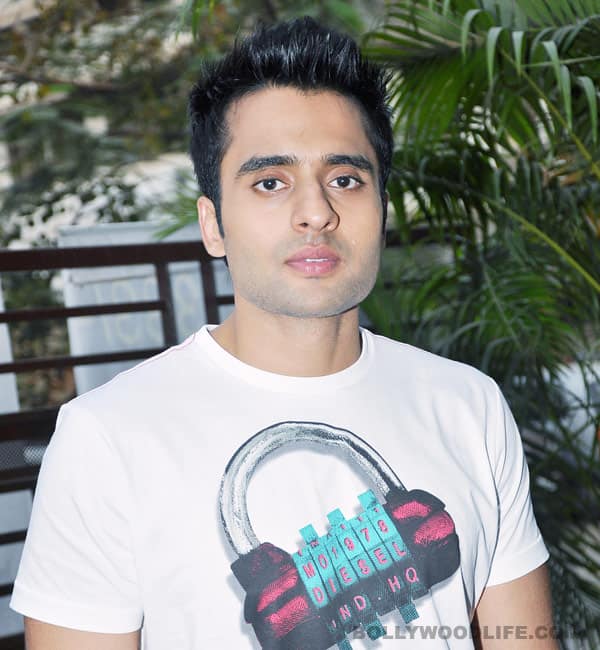 The Rangrezz actor talks about being poor, Gangnam style and why he feels he is lucky to have been cast by the veteran director
For a young actor, it is always a tough time when his film is about to release, since careers are made and broken every Friday at the box office. And for an actor whose last movie was a huge flop, chances are that he will be even more nervous about it. Yet Jackky Bhagnani seems completely at ease. He is nervous, but somehow calm. He knows the whole exercise already – it is, after all, his fourth film. And with a strike rate of one hit in three films, Jackky should be a bundle of nerves. But the actor is confident this time. He believes in his latest, Rangrezz, and he has a good reason to do so. With a director like Priyadarshan – a veteran of 30 years – partnering with National Award winning cinematographer Santosh Sivan, this film seems to have a good chance of a decent run at the BO. Talking to BollywoodLife the young actor discusses his father's rise from poverty and much more that he has never reveal to the media…
What is Rangrezz about?
The movie is about a guy who goes all out for his friends. But how it is different is – generally you see issues between friends and stuff like that, but here my character is helping out a friend with his love story. How this is believable is that today, when you have such issues, you usually call on friends. And there is always that one friend you approach for help. That one Rangrezz is there in every group. And that person, whenever he gets such a call for help, leaves everything he is doing to help his friend. And a lot of times he gets himself into trouble. So this movie is a story about that catalyst. It's about that Cupid who helps people.
So is it a bromance, something on the lines of recent films like Kai Po Che?
This is not about bromance. It not about issues between friends at all. It is a story about a guy who leaves everything to help his friends, and what happens to him after that. What happens to his world after that. So comparisons to Kai Po Che would be unfair.
Tell us about Gangnam style – that's being talked about more than the movie itself…
Gangnam style was a gift from me to my dad. Because he has done a lot for me, as you have seen. There is no surprise about that. I don't think I can ever return that in my life. But I thought that it's high time I do something for him. And I spent all of my savings making that song! But I'm happy with the way it turned out. It is an achievement for all of us. Not just for me, Jackky Bhagnani, but for team Rangrezz as well. A lot of people were in the race for that song, not only in Bollywood, but all over the world. So I'm happy that they gave it to us. It just proves that Indian cinema cannot be ignored, because Gangnam for Universal is as big as an MJ or Madonna song.
Does the movie justify the song?
The story is about this guy Rishi Deshpandey, and the ups and downs of his life. So when the last shot – which is a happy shot – is done, this song plays and you can see my character dancing to it. It's not like bring on Gangnam and eight packs and all. No. this is Rishi Deshpande, and he will dance like this only. Jackky Bhagnani may dance in a different way. See, we could have taken the song in the movie, but then it would have looked forced. The kind of background that Priyan sir comes from, he believes that you should never misguide the audience; always be honest with them. And if you're honest with them, you can sell anything to them. Then they know that yeh jhooth nahi bol raha hai. Ullu nahi bana raha hai.
This time you are in the hands of a real experienced director – you consider yourself lucky?
Working with Priyan sir is for me like a beggar getting a Ferrari! After Gardish and Kala Paani, the team of Priyan sir and Santosh Sivanb is coming back. I am just happy that he chose me.
Your previous films were high on style and dance and low on content. In this one now, are you trying to show your acting skills as well?
This was a conscious decision – that I wanted to do something different. I mean F.A.L.T.U. was a hit, and Ajab Gazabb Love didn't fare that well because of six films releasing around it. But if 10 people saw it, nine liked it. Comedy is very difficult. But somewhere down the line I realised that every time the movie is over and people come out of theatre, they like me. But they only talk about my dancing and my eight-pack and so on. It takes away from performance and those films were performance based too. So this was a conscious decision to do something different. This time there is no showing off of looks or body, no flashy jackets, no hair-makeup, no shades. Just me wearing a simple shirt and jeans and being in character. Obviously, it is difficult. So it's like when you have five senses and four are taken away.. and you have to only rely on that one sense – it becomes difficult to communicate. But that one sense becomes strong, and helps the performance.
Rangrezz releases only a week before Sajid Khan's Himmatwala, which is produced by your own father! Are you afraid of competing with your own movie?
My dad is a true Himmatwala, so no, I don't think he is worried. And again, every weekend a movie can make Rs 100 crores; it's not tough. It's nothing like if one week later Himmatwla releases, there will be a problem. That's a very big film anyway.
You are playing the role of a poor Mumbai guy, while Jackky Bhagnani in real life is pretty rich!
I want to clarify that I was three or four years old when I came to Mumbai. My father used to sell sarees in Calcutta on the road. We lived in a 1bhk apartment in Sher-e-Punjab society when we came to Bombay. I have seen my father's growth from nowhere. Then he went on to become the number one producer in the country. He had two back to back flops, and people wrote him off. I have seen that with myself too. After losing 60 kilos and being in one of the biggest blockbusters (F.A.L.T.U.), I was not taken seriously. In this line, every Friday your fate changes. But when I was born, the roadside phase of my father was over. So yes, this film shows a normal middle class guy, which I may not be in real life. But again, as an actor you have to do this. I have to be able to hold you!
The movie is remade from a South film. Have you seen the original?
It is a remake of Naadodigal. I have seen that film. The thing here is that I did not choose to do it. I was chosen by Priyan sir. It would be wrong on my part to claim anything else. My dad too was not very confident. And I have said this in the past that if you take out me and the other actors from this film, then this is what you get – a director like Priyadarshan, Vashu Bhagnani as producer, Santosh Sivan as DOP, Sabu Cyril as production designer, the background score done in Prague, music by PSY, Sajid-Wajid and Sunder Baby, who is an award winning composer down South….it's one of the strongest teams in the past few months, so we are just fortunate as actors to be a part of the film.
Do you feel that being a producer's son, the media gives you a hard time because it is easy for you to land roles, most of which are in your dad's films?
I felt that the media gave me a hard time in the beginning. But I don't blame them. They don't know where I come from. But in this film I feel they are going to support me, no matter how many big films are around; I know they are with me. In press conferences I am getting that vibe, and I am happy about it. My only thing is that I love what I do. We have a construction company, and I am the best salesman they have. Honestly, I can do 10 percent of the work that I currently do and earn 10 times more money. I am not in it for money or for fame – I am here because I love it!