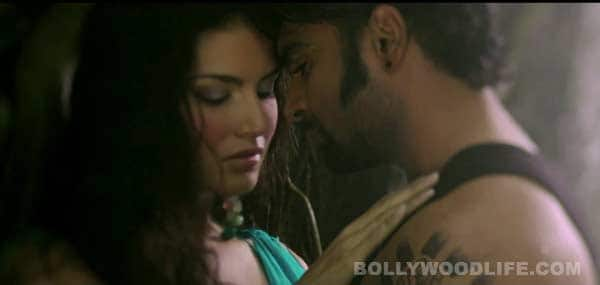 There's nothing new about Kaizad Gustad's Jackpot, except he launched a raunchy Ms Kaif few years back and ten years later decided to have an adult movie star as his lead heroine
Sunny Leone and Sachiin Joshi starrer Jackpot has hit the theatres. And while the adult star turned Bollywood heroine has high expectations from her latest release, we were really disappointed with this one. What is supposed to be a slick con film ends up like half baked pie with all the wrong ingredients in it. The story revolves around a casino Jackpot in Goa owned by Boss (Naseeruddin Shah). Maya (Sunny Leone) and Francis (Sachiin S Joshi) are con artists who plan to make it big in life and have a game plan to make their dream come true. The game starts at Boss' casino boat Jackpot, which eventually becomes the twist in the well planned con act. While everybody from Boss to Francis and his friends are busy planning, they seem smitten by Sunny's mere presence (read bosoms), which we failed at miserably. Will the Maya and Francis' plan to pull off the Rs 250 crore scam succeed? You can watch the film and try hard to find out.
However, I can give you three reasons why you should 'not' watch Jackpot and instead save your hard earned money for New Year's celebration or may be buy the expensive Dhoom:3 tickets:
The first reason is director Kaizad Gustad – This filmmaker certainly had producers shell out money to convert this utter gibberish (that he assumed was a good thriller story) into a film. The story is not new, treatment isn't great and the filmmaker has wasted both talent and sex appeal. It's unimaginable how Gustad managed to make terrific actor like Naseeruddin Shah look like a caricature from some pirate film and even failed to extract a performance. Gustad excels at wasting Sunny's sex appeal. The story is messed up and far from anything that a sexy thriller con film should be.
Sachiin Joshi has no screen presence and many (read all) will agree that he just is not 'actor' material. Moreover his voice fails him badly. Neither does he look cunning or sharp; he just appears to be the way he is in real life – without a single emotion or expression to offer to the cameras. In fact Sunny's husband Daniel Weber who has a cameo in this film would fare better as the film's hero. He would at least score better in the looks department than Sachiin.
Sunny Leone reminds us of Katrina Kaif only a decade ago, but an aged version. Ms Leone would fare better than the Dhoom:3 star as far as the expressions and dialogue delivery departments are concerned even today. The filmmaker makes sure he has the sexy side of Sunny flashing right through the movie and even makes sure that her much talked about porn star image stays through this film too. However that's not appealing. And if you wanted to watch Sunny's sexy bod and her other antics you could instead chose the comfort of your home and internet services and just log on to Sunny's website without having to pay for a ticket. At least you will be saved from the trash that comes along with Sunny in this film.
While the music by Sharib and Toshi is decent and may be the saving grace for this film, also Naseeruddin Shah mere presence in this film adds a little weight to the otherwise ignorable movie.
Gustad had said in a recent interview that if Boom released today it would have done well (of course considering Katrina's popularity), we don't doubt him. With Kat having sworn never to don a bikini onscreen, this might be the audiences' only chance to see her bare dare act. However if he ever thinks of releasing Jackpot ten years later, it would still fail to hit the jackpot and go boom at box office.
Rating:
out of 5
Reviewed by Rashma Shetty Bali
* Poor
** Average
*** Good
**** Very good
***** Excellent