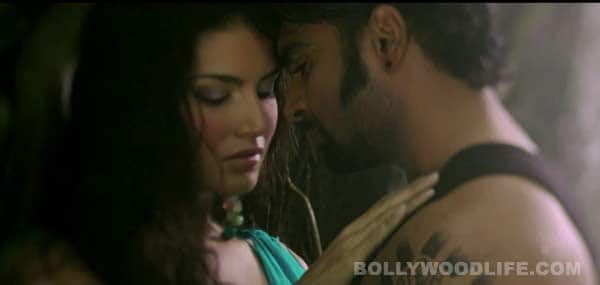 Sachiin making love to Sunny may not be your idea of a visual treat, but the picturesque location and Leone's sizzling presence make this melodious number very easy on the eye…
If only Sachiin Joshi could be stopped from featuring in this otherwise beautifully shot melodious number, Kabhi jo baadal barse song from the movie Jackpot would have been a visual treat. But we understand Sachiin-the shorty-Joshi's urge to be in every other frame in this one. If Sunny Leone roams around in lush green jungle in skimpy outfits showing off her gorgeous curves, it is only wise of Mr Joshi to seize the opportunity and keep an extremely close…err…eye on the bombshell. Hai na?
Sung by Arijit Singh and composed by Sharib Toshi, this track is about longing for love. Director Kaizad Gustad has chosen to show cascading waterfalls, a mysterious fog and abundant greenery through which Miss Leone wanders aimlessly, sometimes in reverse motion – watch it and you will know what we mean. We wish he had drawn the line at Sachin Joshi taking his shirt off to give a glimpse of his tattooed torso as the seductress shoots suggestive glances at him.
Take a dekho at this song and tell us: how unconventional a pair do Leone and Joshi make?