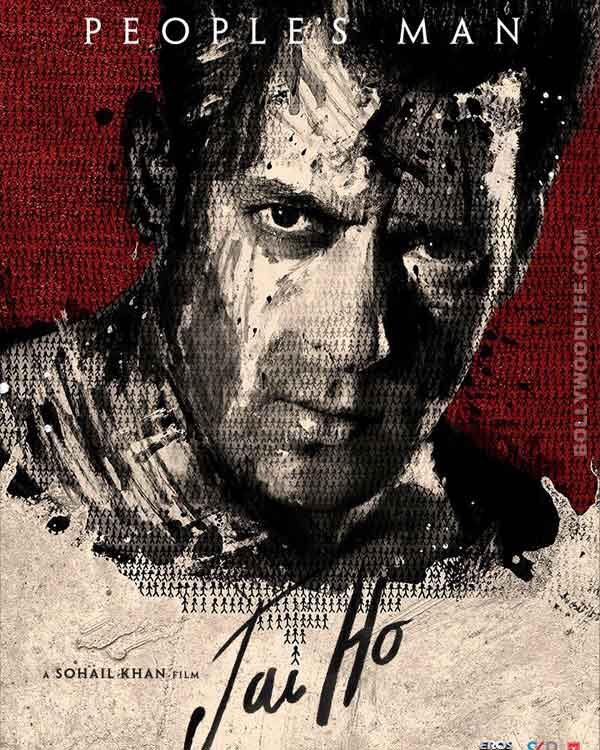 The Dabangg Khan is back on the silver screen after a year in Jai Ho. The film has its heart in the right place, but fails to make the expected impact. But all Sallu fans will have a blast!
Salman Khan's long-awaited Jai Ho has finally hit the screens and, trust me, the moment you walk into the theatre, you'll know this one is going to be a seeti-bajao marathon. Directed by his youngest brother Sohail Khan Jai Ho, starring Salman, newbie Daisy Shah, Tabu and Danny Denzongpa is a typical masala entertainer. But unlike SK's earlier movies – Ready, Dabangg, Ek Tha Tiger and Dabangg 2 – this one has a social message attached, somewhat like the Sanjay Dutt starrer Munnabhai MBBS. Seeing Salman in a social crusader avatar is a bit strange, but then there is nothing that the superstar cannot pull off, hai na? But what is Khan brothers latest offering Jai Ho all about? In a nutshell, Salman plays a suspended army officer who is ever-ready to help those who need it. His only motto is: create a chain of goodness in society. Hence every time he helps somebody he tells them that instead of saying thank you, they should help three other people and ask them in turn to help three more people. Remember how in the promo Khan scribbles on a piece of paper with what looks like a family tree on it? Turns out that it's his way of making people understand the funda of helping each other. Does he succeed in his mission? No guesses needed, wethinks! In between, there is a romance between Salman and Daisy, some naach gaana and, of course, loads of action, much of it in slow motion. But that's not why you should watch Jai Ho. While it is all about Being Human, this is why Jai Ho is worth at least one watch….
Sallu bhai is 48, but not even once while watching him beat up the goons will you consider his age. In fact, at one point it seems as if his good friend Sunny Deol's aatma has entered his body, especially when he roars like a tiger…errr…lion…actually it's hard to figure out which one, but it's hilarious each time!
We all know that this B-town Robinhood can easily pack a punch and kick up a storm just with his dumdaar dole shole. But in Jai Ho Salman is the superhero version of Rajinikanth. He fights almost 100 goons at a time and when he roars, they literally run for their lives. It's a bit much to digest, but it is Salman, after all, the only actor in Bollywood who looks cool doing unimaginable, impossible feats.
Jai Ho features almost half of the industry's minor players. It seems as if Salman has taken the 'helping others' idea way too seriously and therefore brought on board actors who have been marginalised for a while now. There is Sharad Kapoor, Mukul Dev, Vatsal Seth, Ashmit Patel, Aditya Pancholi, Pulkit Samrat, Tulip Joshi, Varun Badola, Yash Tonk and Bruna Abdullah. And as you watch, you'll be surprised as a new actor pops up in every other frame.
Jai Ho marks the Bollywood debut of Daisy Shah and Bigg Boss 6 contestant Sana Khan. While Sana has little to do, Ms Shah is to watch out for – she is a fabulous dancer and surprisingly has a good screen presence. Her solo dance number in the beginning is indeed sizzling.
And best is saved for the last. Any Salman movie cannot be complete if the superstar doesn't take his shirt off, right? At the very end, Sallu miyaan's perfectly shaped torso is on display – that makes up for every loophole in the film, and there are many. Boy! It's a visual treat to watch Khan tear off his shirt and flaunt his oh-so-hot body… that too, after a whole year of seeing him nicely buttoned up at events and on TV shows. One glimpse of a bare Sallu and the crowd starts whistling and hooting till the credits roll.
This one is about Salman Khan, all the way. So if want to laugh and be entertained this weekend, go watch Jai Ho!
Rating:
out of 5
Reviewed by Namrata Thakker
* Poor
** Average
*** Good
**** Very good
***** Excellent