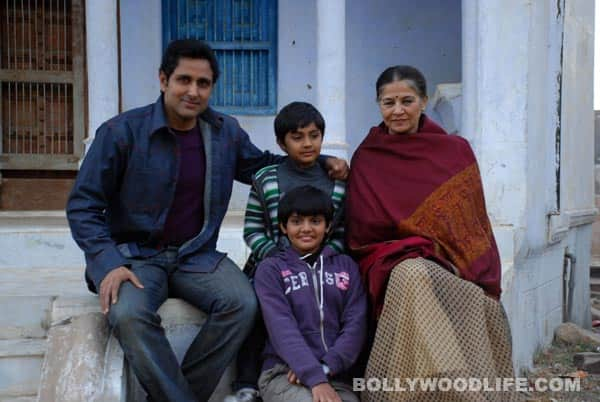 National Award-winning director Nila Madhab Panda is back with his next, an educational entertainer that packs a punch
First things first – if you've watched the trailer of director Nila Madhab Panda's Jalpari and think that it's a spooky film, you're wrong. Jalpari is as much about a mermaid as Amole Gupte's Stanley Ka Dabba was about Stanley's tiffin box. The film tells the story of Dev (Parvin Dabas), his mother (Suhasini Muley) and his two kids, Shreya (Lehar Khan) and Sam (Krishang Trivedi). Shreya is a tomboy who is rather grown up for her age. She even addresses her Dad by his first name. Her brother Sam is her partner in crime, and often the victim. The kids don't have a mother, which is where their grandma steps in.
Panda establishes his characters deftly and moves the story to where it actually belongs – a nondescript village somewhere in Haryana. Lakshmigarh is stuck in a time warp and doesn't have basic facilities like water and medicine. Governed by a village panchayat that is slowly warming up to the idea of having its own hospital, the place has a shady secret that very few know about. Watch the film to know what that secret is, and how it is unravelled by Shreya and her kid brother.
The children visit their ancestral village for the first time during the summer holidays. Their dad has been avoiding this trip for a long time, but this time he finally gives in, mainly because of the drama caused by his daughter. Jalpari tends to make you go 'awwwwww' because of the kids acting in it. Panda, who previously made the National Award-winning I Am Kalam seems to know his way around youngsters.
Jalpari is not just a children's film, but a must-watch for adults too. Written by Deepak Venkateshan, this small film with a big heart has a few messages to convey, gender equality being one. At the start you might feel that it's about kids coming to terms with their roots. An hour in, it transforms into a spook fest. And by interval time, you realise it is too sweet to be truly scary.
Director of photography Savita Singh Puri captures some very beautiful frames of the geographical setting. The music, though sparingly used, is amazing and the Bargad track by Piyush Mishra is stellar. And the children excel – this film gives Bollywood its new Khan: Lehar Khan. The girl will steal your heart and make you wish that she was your daughter!
Rating: 4/5
* Poor – Avoid!
** Average – Give it a shot if you are desperate!
*** Good – One time watch!
**** Very good – Must watch!
***** Excellent – Don't miss!
[jwplayer mediaid="138319″]
ALSO READ: GATTU movie review: An endearing peep into a child's life!