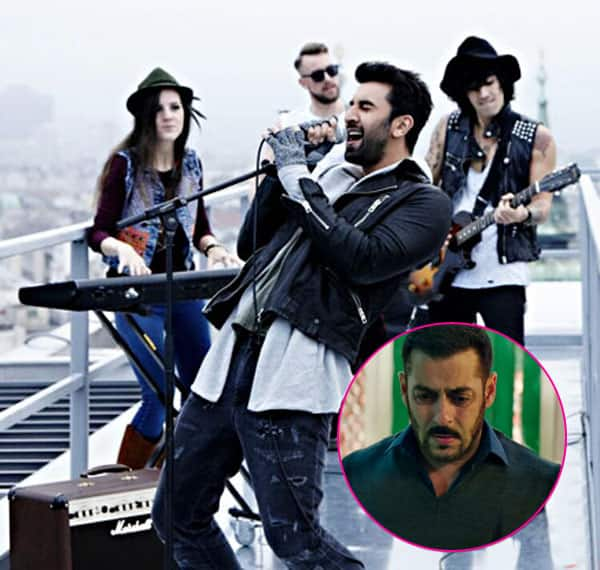 When the second track of Ae Dil Hai Mushkil titled Bulleya was released the song instantly caught our fancy and we couldn't help but notice the title of the song similar to Sultan's Bulleya. While the one from Sultan is a soft sufi number, the one from Ae Dil Hai Mushkil is a fast paced sufi gem. Bulleya from Sultan was dedicated to Bulle Shah the great and was a romantic Sufi number. It's a melodious tune. from Sultan was composed by Vishal Shekhar, sung by Papon and written by Irshad Kamil. The Bulleya song from Ae Dil Hai Mushkil is also a Sufi love song. The Bulleya song from Ae Dil Hai Mushkil is sung by Amit Mishra and Shilpa Rao, written by Amitabh Bhattacharya and been composed by Pritam Chakraborty. Having the same title doesn't necessarily mean the song was copied or has similar tune to their counterpart it's just the case of same title for two or more different songs. There have been times when movie titles has been lifted from old hindi songs or song titles lifted from old movie titles like in the case of Sidharth Malhotra-Katrina Kaif starrer Baar Baar Dekho. the title is same as Baar Baar Dekho song from Chinatown (1962) or Ranbir Kapoor-Aishwarya Rai Bachchan starrer Ae Dil Hai Mushkil movie title similar to song Yeh Hai Bombay Meri Jaan song from C.I.D. (1956). Also read: Before Ae Dil Hai Mushkil, Fawad Khan will be seen in THIS film find out what!
Let's take a look at seven titles which have have been used two or more times in different movies:
Kamli/Kamlee (Dhoom 3-Happy New Year)


The song from Dhoom 3 was the talk of the town and had Katrina Kaif slaying it and hitting the ball out of the park, on the other hand this song from Happy New Year had two versions one was Lovely which was picturised on Deepika Padukone and Shah Rukh Khan and another version titled Kamlee.
Janam Janam (Phata Poster Nikla Hero-Dilwale)


While the one from Phata Poster Nikla Hero is forgettable, its namesake from Shah Rukh Khan starrer Dilwale was the chartbuster and is one of the most melodious songs of last year.
Pyar Kiya To Darna Kya (Mughal-E-Azam-Pyar Kiya To Darna Kya)


While the older song in magnum opus Mughal-E-Azam is an evergreen chartbuster and is still remembered by many, the one from Salman Khan starrer also did reasonably well but is not as successful as the older one.
Chalte Chalte (Pakeezah 1972 – Chalte Chalte 1976 – Chalte Chalte 2003)



Just like Pyar Kiya Toh Darna Kya, Chalte Chalte from Paakezah is an evergreen chartbuster ditto for the one in 1976 film (my personal favorite) but its namesake from Shah Rukh Khan starrer 2003 film is a forgettable score.
Tere Liye (Prince – Fitoor)


Tere Liye from Vivek Oberoi's Prince was a super hit track, in fact songs were the only good thing about the movie. Ditto goes for its 2015 namesake the song which is melodious but Fitoor was a disaster.
Har Dil Jo Pyar Karega  (Sangam – Har Dil Jo Pyar Karega)


The older one from Sangam, again like Pyar Kiya To Darna Kya and Chalte Chalte, is an evergreen track, same thing can't be said about the one from the film Har Dil Jo Pyar Karega.
Jee Karda (Singh is Kinng – Badlapur)


A rare occurance, when both the songs were super hit. Jee Karda from Singh is Kinng was a peppy punjabi track and the one from Badlapur was a rage anthem.
Ranbir Kapoor and Aishwarya Rai Bachchan passion

The talks about their sizzling intimacy has been breaking the internet, and now you get to see it.

Image credit: Youtube

Ranbir's tickles Aishwarya's thigh with a pleading look

A scene in the song shows the duo at a dinner party where Ranbir can't keep his hands off the sexy lady.

Image credit: Youtube

Ranbir licks the cake off Ash's neck

This scene in the video is surely the one to make you swoon

Image credit: Youtube

Ash seduces Ranbir with some cream

Ash playfully licks the cake off Ranbir's cheek which will make you envious of him.

Image credit: Youtube

Aish and Ranbir's chemistry is crackling

The closeness between the two in the song is so intense.

Image credit: Youtube

Aishwarya and Ranbir Kapoor's Bulleya also features a steamy strip tease sequence

Ranbir slowly slides the strap off Ash's shoulder and gently kisses it. DEAD!

Image credit: Youtube