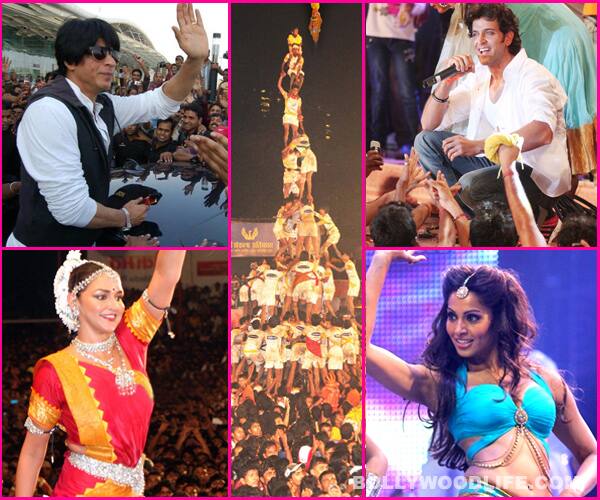 We hear that the deal to get the Agneepath actor to celebrate Gokulashtami this year may not work out, as the festival organisers can't really afford the honey-eyed actor's humongous demands. Which made us wonder whether Hrithik's fellow B-towners too prefer to cash in on auspicious occasions like this one…
Inviting celebrities to Janmashtami celebrations every year to cheer on the enthusiastic govindas is customary. And if there is a favourite available, then everything possible will be done to rope that star in to be part of the event. And, of course, there is almost always a payment involved. Apna B-town superstars are known to cash in on these opportunities to make their presence felt and occasionally promote their movies while making some big moolah without too much effort.
Like every year, this year too some B-town biggies will make their starry presence felt at several Dahi Handi sites across aamchi Mumbai, where prizes running into crores of rupees will be up for grabs, obviously for the govindas! We heard that Shahrukh Khan, Hrithik Roshan, Akshay Kumar, Bipasha Basu, Esha Deol and others are all likely to be present at mega Dahi Handi celebrations.
Shahrukh Khan to attend Dahi Handi in Worli
Following in the footsteps of arch-rival Salman Khan who's known for celebrating festivals irrespective of his own faith, Shahrukh is all set to attend Dahi Handi in Worli tomorrow. Are we surprised? Undeniably, SRK now has every reason to celebrate any occasion, big or relatively small. With Chennai Express grossing Rs 200 crore plus worldwide and still counting, the superstar couldn't have asked for more from the gods. This is one more golden chance for the B-town Baadshah to not only meet, greet and interact with his fans who will be present in large numbers, we are sure, but also to promote his romcom even more than he already has! Going by B-town's eternal lover boy's enthusiasm for the Rohit Shetty-directed film, we wouldn't be surprised if he joined the govinda gang and did his bit to climb up the human pyramid to break the Dahi Handi, just like he broke box office records!
Hrithik Roshan in Worli, too?
Hrithik Roshan has been known to shy away from public events, but he made an exception to grace a Dahi Handi event to celebrate Lord Krishna's birthday last year. But he had a valid reason to do so, remember? The actor had a blast while performing the Dahi Handi sequence in Karan Johar's Agneepath, which made Rs 100 crore at the box office. The light-eyed actor could very easily do the same act in real life too, we know. We hear the Krrish 3 actor might be a part of the Janmashtami celebrations organised by politician Sachin Ahir at Worli's Jamboree maidan, if things can be worked out to everyone's satisfaction.
How much is Hrithik charging for his Janmashtami appearance?
If our favourite feathered friend is to be believed, HR apparently wants a whopping Rs 70 lakh to make a public appearance at the event! Wethinks it's a fabulous opportunity for Bollywood's ultimate superhero to promote his new flick Krrish 3. So instead of focussing on the monetary aspect, Hrithik, why not use the public platform to show off some unique promotional idea for your movie? Wethinks you could've made it grander with a flying appearance, like your character Krrish, to break the handi. That would've been unique, no?
Esha Deol to join SRK in Worli for Janmashtami
And money is not everyone's goal. We hear that the original Dhoom girl Esha Deol has decided to stand by her religious beliefs. Like her gorgeous mother Hema Malini who performs on Gokulashtami every year, the happily married young actor is all set to perform at the Worli maidan tomorrow in front of a huge crowd.
Bipasha Basu in Pune for Janmashtami
Like Esha, the super hot but spiritual Bipasha Basu will also make an appearance at Krishna's birthday party, but not in Mumbai; she will be in Pune cheering on the saffron dressed govindas. Joining Bips in Pune will be Huma Qureshi. We hope this time the voluptuous babe wears something colourful and doesn't stick with her favourite black for the occasion!
So all you enthusiastic govinda fans – are you all set to celebrate Dahi Handi with your favourite B-town superstars?