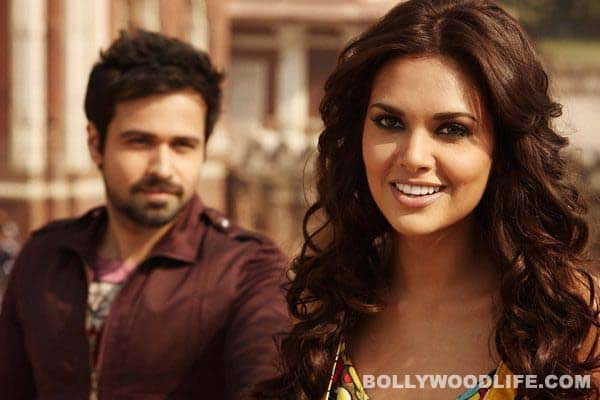 Director Kunal Deshmukh's film is an impressive effort worth a one-time watch
Jannat 2 bears no connection to Jannat. In fact, the title of the movie really doesn't make any sense. Twice, Kunal Deshmukh tries to convince us via the lead character Sonu Dilli in a long-winded way why he has chosen to name his film Jannat 2, but the explanation is just not credible enough. Fortunately though, we can't say the same about the story. There is just enough plausibility to convince us that it is worth sitting through till the end.
Jannat 2 follows Sonu Dilli KKC (Emraan Hashmi), a small-time weapons dealer with a weird sense of humour. He rationalises selling these killing machines by saying that he is helping to reduce the differences of status among people and bring in equality. Things change when ACP Pratap Raghuvanshi (Randeep Hooda) barges into his life and threatens to bind him to an anchor and throw him off a bridge. An injured Sonu is treated by Dr Jhanvi, played by the uber sexy Esha Gupta. The two fall in love, sing a couple of songs but Pratap intervenes with his plans. Sonu works his way up the gang and finally meets the leader Mangal Singh Tomar (Maneesh Chaudhary). Life is not smooth sailing for Sonu, Jhanvi and Pratap. The rising tension regarding their fates will stop you from falling asleep but will not push you to the edge of your seat. This tension reaches a crescendo in the climax. The end somehow just doesn't gel with the way the plot has flowed till then. It's almost as if one of the lead actors (we won't tell you which one we think it is) or even the producers requested Kunal to do a last-minute rewrite of the ending.
Jannat 2 is fast-paced with plenty of double meaning dialogues. You may want to keep your children away, what with every second scene having some character or the other mouthing the choicest of abuses. The violence quotient is also quite high. And did we mention the sex? It's an Emraan Hashmi film after all!
As the character who undergoes the most transformation, you would expect Emraan to deliver his best performance till date. What he does instead is simply reprise all his previous Roadside Romeo acts. There is nothing new in his approach to Sonu. We were also left wondering why he is called "kutti kameeni cheez" as we never see him do anything that justifies the tag. Emraan gracefully gives way to Randeep. From the moment Pratap interrupts Sonu's shenanigans, you are hooked and want to know more about him. Randeep brings the necessary angst to his character of an anguished cop who seeks revenge. From his first scene till the last, he portrays Pratap with such brutal honesty that you can't help but share his pain.
Kunal also extracts commendable performances from his supporting cast. Arif Zakaria has a short role but is as good as he always is. Maneesh Chaudhary is brilliantly menacing as the kingpin of the arms dealers. None of his earlier performances in Band Baajaa Baaraat or in Rocket Singh will prepare you for what he has done in Jannat 2. Mohd Zeeshan Ayyub deserves a special mention for the way he holds his own as Sonu's friend Balli. Even Esha Gupta manages to cry somewhat convincingly but then there is hardly anything for her to do. Her role is limited to looking sexy and she does it well.
Jannat 2 doesn't want to make you laugh, make you think or contemplate upon life. All it wants to be is an unabashed gritty Bollywood potboiler and mostly succeeds in its aim. It's worth a watch if you have nothing else to do over the weekend.