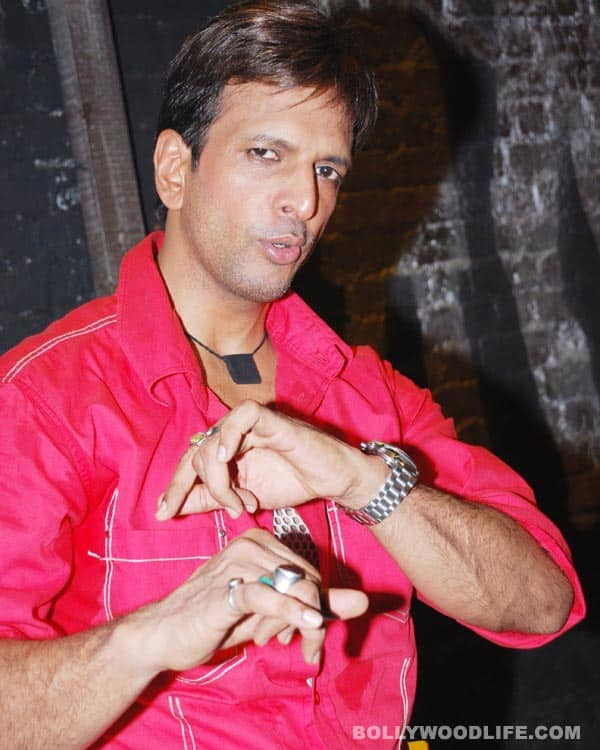 Excited about his forthcoming release The Forest, Javed Jaffrey is confident that the film will thrill the audiences and make people think about pressing environmental issues. In a candid chat the powerhouse of talent talks about the film, his other creative pursuits and why he thinks the big stars of Bollywood should dare to be different
He's a rare talent, an eclectic mix of spontaneity, creativity and inventiveness. It would be unfair to define Javed Jaffrey as an actor and even more difficult it is to coldly categorise him as just a performer.
A terrific dancer, an excellent host, a successful ad-filmmaker and a versatile mimic artist, Javed has his fingers in many pies. His portfolio is as rich as it is distinguished. He makes a Salaam Namaste spicy with his quirky role of a wannabe Australian cowboy. He can make a serious tale like Fire edgier by lending a calming yet equally disturbing influence. He can play a demented Sikh in Singh is King or sit in the judgment chair of Boogie Woogie – touted to be India's first reality dance show-and judge the craft with right dose of analysis.
Javed certainly wears many hats and dons each one with an amazing ease. After a long time the 48-year-old is excited about the film he has immense faith in. Releasing on May 11, The Forest is a film that will portray him in a slightly different avatar. The complex character he plays in The Forest has innumerable layers. We caught up with the institute of talent himself to know what his new film is all about and various issues occupying his multi-tasking mind.
The Forest, directed by Ashwin Kumar is a mystery thriller. What made you sign this unusually titled film? Tell us what the film is all about…
This film is special to me and I did not think twice before signing it, because my director Ashwin Kumar saw me beyond my set image. When I read the script I realised that the story had many layers. The clarity with which Ashwin had executed this film in his mind even before it was made pulled me towards it. I could not resist myself from contributing to this project by acting in it. As with any other film I am striving to take myself to another level as an actor. In this film I am portraying a character, which I did not get to play in any of my earlier films. In the foreground there's an emotional drama, but deep within there's a conflict, which is very difficult to resolve. There's horror, there's fear and a man-eating leopard. But what is more dangerous – and you see that in this film – is not the presence of a beast out there in the jungle, but the beast hidden in the so-called civilised beings that we try pretend to be. We all do evil deeds unknowingly or otherwise and yet we call ourselves civilised and cultured.The film is about that and much more.
 You are at ease doing many things simultaneously. What is it about acting that excites you?
I think the thrill to become someone you are not is exciting. Right from Salaam Namaste to Fire and from Dhamaal to 8 by 10 Tasveer, I have constantly tried explore the entire spectrum, often going back and forth. I like to play intense and very complex characters. See, there are certain things we all do, but these things never get portrayed in cinema. But if you observe carefully, these little quirks and idiosyncrasies make us who we are. They are part of our being. I like to observe these things and portray them on the big screen.
People have seen you essaying comic roles and you are perceived to be the funny man of the industry. Does that image bother you, or you are comfortable with comedy, which is undoubtedly your forte?
Being an actor is my forte. You feel my forte is comedy and that is your perception of my forte. (laughs!) I am a performer who wants to discover and explore more. I want to push myself harder and expand my range. Every actor functions within a specific range. I am comfortable with any place on the spectrum. The only thing I am not comfortable with is overt sexuality, although I have done a bit of that in Fire. In the end I don't want to be stereotyped.
 But stereotyping establishes you as a performer. When you get stereotyped what it means is that you are accepted by the audience in a particular role. Stereotyping can get you more offers and more money.
True. It's not bad to be stereotyped. In the end you are stereotyped only when you are accepted. Acceptance comes first, then stereotyping. But you can prove that you can come out of your comfort zone and still be equally likable. Look at Akshay Kumar, for instance. He started out as an action hero, but he is accepted in comic roles too. So everything boils down to one question: Can you break the mold and still be successful? I think that's a big challenge. I feel once you reach a certain level you should use your power and say hey, I have been doing the roles you wanted me to do, but let's give a try to something different. Let's do something I have faith in. If you have the courage to say that, in my opinion, you are a good actor.
Next: Javed Jaffrey on Bollywood