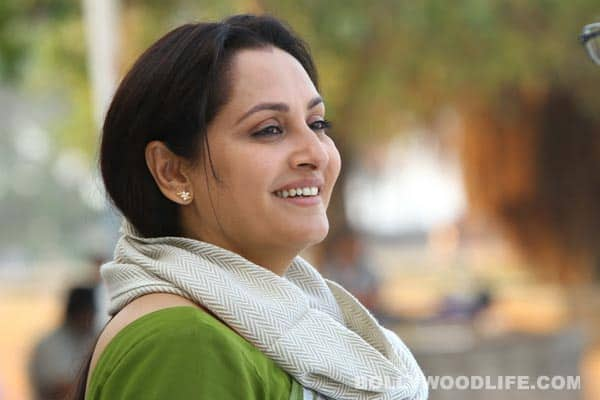 The South Indian actor-turned-politician turns 51 today
Jaya Prada was born on April 3, 1962. She's certainly packed in a lot into the years – as a talented actor and, later, as a politician. What's more, she's attracted her share of controversy too, especially in politics.
While she made her film debut at a very young age, it was K Balachander's Anthuleni Katha in 1976 which vaulted her into the limelight. Her versatility was revealed in K Viswanath's Siri Siri Muvva in which she played a mute dancer. Adavi Ramudu further established her as a big star in the Telugu industry. Other hit films followed, such as Balachander's Ninaithaley Inikkum in 1979. During this spell, Jaya Prada acted with all the leading heroes of the day like NTR, Krishnam Raju and Sobhan Babu. Then, Viswanath remade Siri Siri Muvva in Hindi as Sargam and she made her entry into Bollywood, hampered somewhat by her halting Hindi.
But her successes continued to be in the South, with films like Balachander's 47 Natkal in which she was paired opposite Chiranjeevi. Later, having brushed up her Hindi, she appeared in Kaamchor which went on to become a hit. Her memorable roles in Bollywood were in the Amitabh Bachchan starrer Sharaabi and Sanjog. Then came Saagara Sangamam, starring Kamal Haasan. The endearing love story earned Jaya Prada the best actor award.
Politics beckoned in the early '90s and she allowed films to take a backseat, playing only the occasional character role. She's acted in Marathi as well and her recent appearances were in the Malayalam film Pranayam and in the Kannada period piece Krantiveera Sangolli Rayanna.
Jaya Prada's entry into politics was in '94 when she joined the TDP at the behest of NT Rama Rao. Later, when Chandrababu Naidu took over, she had differences with the leadership and quit the party to join the SP where she found herself in the company of Amar Singh. Both have since been expelled from the party and there is currently much speculation as to how she will play it in the next elections.
Meanwhile, here's wishing the lady, described as one of India's most beautiful women, a very happy birthday.