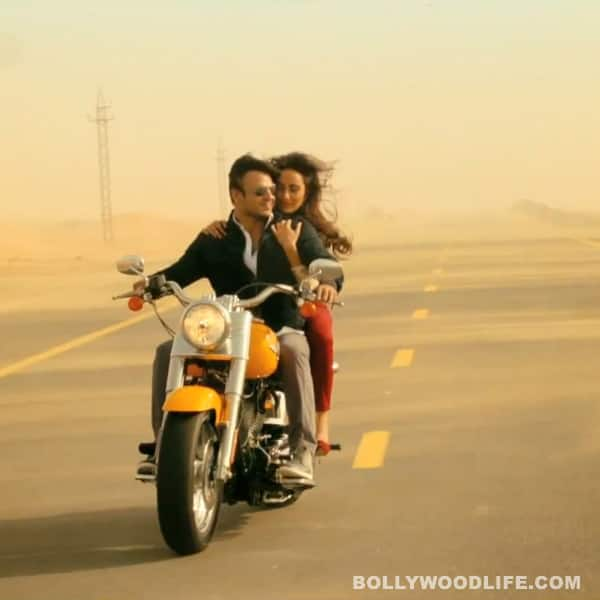 The song is picturesque but fails to hit the mark
When it comes to romancing at different terrains, Bollywood really rules the roost. Be it waterfalls, rainfalls, scorching deserts, under trees or even atop chugging trains, B-town folks have gotten it on just about every place. And in Vivek Oberoi's upcoming flick Jayantabhai Ki Love Story, the dude is getting his freak on with Neha Sharma atop sand dunes in a scorching desert in the song Aa bhi ja mere mehermaan.
Sung by Atif Aslam, it is a slow lyrical ballad, auto-tuned to the hilt. It is pleasant sure, yet it could be just any song Atif has sung in the past. While the lyrics are okay, it is the sheer beauty of the sparse desert landscape that is captivating. And Neha Sharma, dressed uber-skimpily is a treat for the sore eyes, only hiccup being, her outfits are so dangerously short, that the poor girl must have had a real tough time shooting in the sand.
And the song is clearly a dream sequence of sorts, since the movie, a crime comedy, has entirely been shot in Mumbai. Vivek plays a comical goon called Jayantabhai who falls in love with his mortal enemy, the pretty Neha Sharma. Their relationship is shown with rains as the backdrop, and interestingly what unites the two is a super special umbrella called Zaalim.
Well, it will be fun to see Vivek play a comical don for a change. And who knows, playing an underworld character could revive the actor's sinking fortunes. What say BollywoodLifers?
[jwplayer mediaid="167196″]