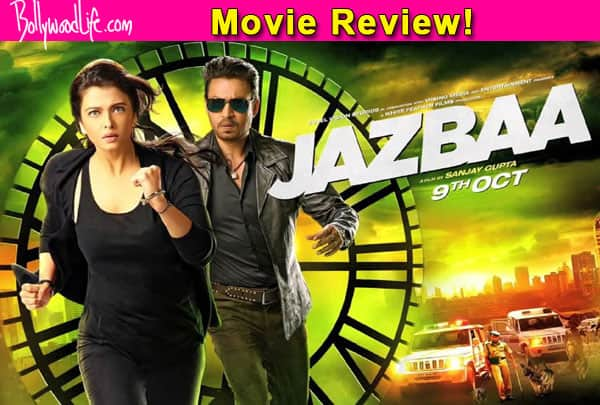 Sanjay Gupta's Jazbaa starring Aishwarya and Irrfan is the remake of  a South Korean crime thriller titled Seven Days. So does Ash's comeback film pack a punch? Read on to find out…
What's it about:
Jazbaa is Sanjay Gupta's return to his true form. A stylish gritty thriller that stays true to its genre and delivers courtesy a solid ensemble of performance heavy star cast. Before getting into the storyline of the film it is important to say that the film is the best come back vehicle Aishwarya Rai Bachchan could ask for. Not only does it do full justice to her talent, but it also shows her in a light that's no other director has been able to capture. Despite the umpteen twists and turns, plot changes, characters and their contribution to the storyline, Jazbaa at its core is a story of a mother and daughter. Aishwarya plays AnuradhaVerma a lawyer who is caught in a cat and mouse game of tracking her daughter's kidnapper. The dichotomy she faces is interesting. Her adversary asks her to defend the case of a criminal who is accused of rape and murder. Caught in a dilemma, she has to now surrender her values and turn a blind eye to what is right to get her daughter back. The script isn't linear, instead it has a multidimensional facet where Anuradha is suddenly caught in the middle of a dodgy nexus that involves a powerful politician (Jackie Shroff), his son (Siddhant Kapoor) and also a mother (Shabana Azmi) who is fighting to get her justice for her daughter's murder. Irrfan Khan plays Inspector Yohan, whose wisecracks and one liners are opposite to Anuradha's calm demeanour. He not only plays a her sidekick but also manages to give the story a different texture. Fast paced with enough suspense to keep you engaged, Jazbaa is tight, gripping and shot in Gupta's signature style.
What's hot:
Clearly the film belongs to Aishwarya. She manages to make Anuradha believable from the very first frame. Even though there are moments when she has to amp up the drama quotient, screech, scream, show her theatrics, there is a sense of confidence with which she builds up her character. We relate to her pain not only because she's lost her daughter, but her constant struggle to suspend the very values and beliefs she upholds is what makes Anuradha endearing. Gupta gives her a canvas where she shows a range that perhaps no other director has been able to capture. If you expect a performance driven film, then Jazbaa doesn't disappoint. Also the pace doesn't slacken, knowing what the genre promises, Gupta keeps his script tight. Even the songs come only as momentary fillers, never dampening the effect of the taut storyline. Atul Kulkarni, Shabana Azmi, Jackie Shroff, Irrfan Khan fill up the frame with their strong performances. The casting is superb and therein lies the victory of the film. Also Irrfan and Aishwarya have an impeccable timing, seem totally at ease with each other, never trying to eat into the others scene. Cinematography is stylish capturing and showcasing Mumbai like never before. The camera work and frames have the Sanjay Gupta stamp marked all over them.
What's not:
The flashback moments early on somewhat hamper us from connecting with what's happening before us. Also Siddhant Kapoor and Jackie's father-son track isn't as solid as expected. The dialogues sometimes sound cheesy and too convoluted. Also Chandan Roy Sanyal's bad guy act is too amateurish. You neither loathe him, nor feel sorry for him. A badly written character that stands out like a sore thumb in an otherwise stellar star cast. The now made famous slow motion scene where Aishwarya runs and screams her daughter's name before interval is too over the top and theatrical. It ruins the subtleness we come to appreciate early on. The flawed moments in Jazbaa are those where Gupta asks his actors to do more, whether it is to scream louder, fight harder, or say the lines with more drama. Less is more and that is an art the director should happily embrace.
What to do:
An edge of the seat thriller that delivers because of Aishwarya Rai Bachchan and Irrfan Khan's able performances, Jazbaa won't disappoint. Book your ticket today.
Rating:
out of 5
Reviewed by Tushar P Joshi
* Poor
** Average
*** Good
**** Very good
***** Excellent