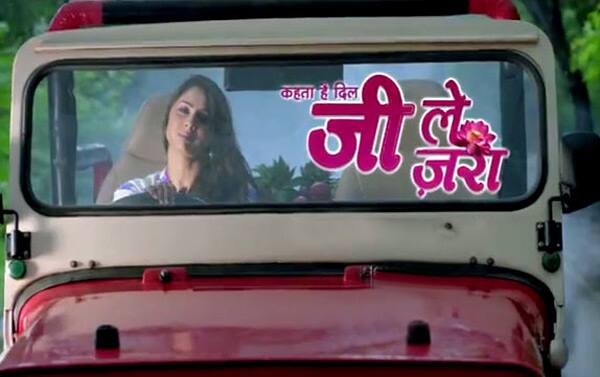 Sangeeta Ghosh makes a strong comeback on the small screen with Kehta Hai Dil…Jee Le Zara
Sangeeta Ghosh had disappeared from the tube some years ago, but now she is back…and how! All the leading ladies of tellyland need to be alert now, because this actor is making waves once again
Sony TV has just launched a new show called Kehta Hai Dil…Jee Le Zara – it tells the story of Saanchi (Sangeeta Ghosh), a modern, mature woman who is in her 30s and unmarried. She lost her parents when she was young and has taken over the responsibility of her father's strawberry farm. Apart from being a businesswoman, she also looks after her two grandmothers – her aaji (Sulbha Deshpande) and nani (Meenakshi Sethi) – along with her two siblings – Advait Prabhu (Nabeel Ahmed) and Prachi Prabhu (Priyanka Sidana). Too many responsibilities for one single woman to handle, we think. Marriage is not on Saanchi's agenda, because she wants to look after her business and her family. However, both her grandmothers are worried about her being single and want her to see in a dulhan ka joda and become settled in life. Their wishes come true when Dhruv (Ruslaan Mumtaaz) enters the scene. He is a young and fun loving lawyer who is a paying guest at Saanchi's friend Dilshad's (Delnaaz Irani) house. Dilshad is not married either, but unlike Saanchi, wants to be. Dhruv and Saanchi are poles apart…isn't that perfect for a love story?
Though the concept of younger man meeting a mature woman has been tried before in Astitva… Ek Prem Kahaani – which had Varun Badola and Niki Aneja Walia in the lead roles – as they say, clichés become clichés for a reason. After all, they work. The treatment given to Kehta Hai Dil…Jee Le Zara is what makes it watchable.
Sangeeta has made a striking comeback, while Ruslaan is just perfect for the role of Dhruv. Both are natural actors. People should take lessons on natural acting from Sulbha Deshpande, who shines. Delnaaz, who has played a similar role in the movie Kal Ho Na Ho, is fun to watch. She does a great job at being a loveable friend.
Kehta Hai Dil…Jee Le Zara is fresh, cute and entertaining. Kudos to the makers of the show!
Rating:
out of 5
Reviewed by Vinod Talreja
* Poor
** Average
*** Good
**** Very good
***** Excellent