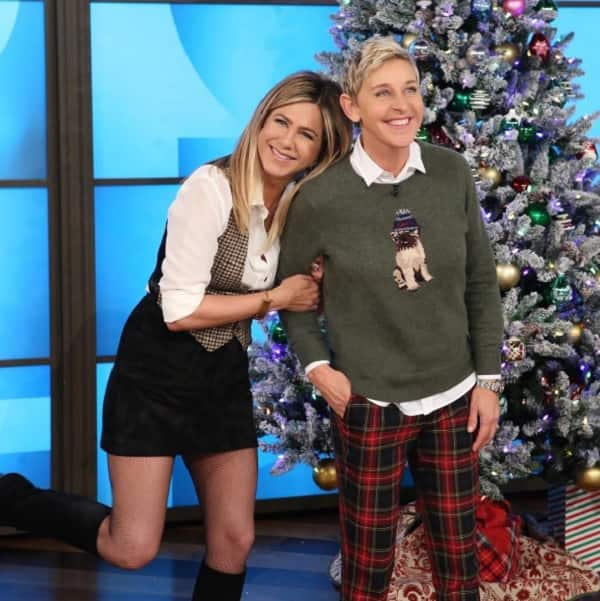 Wow. Time to learn something shocking about Jennifer Aniston. Whoever is this Friends actress' fan might have closely followed herlife history  but did you know that she has had sex with a pilot in the cockpit? Ah well. That's Wild Aniston for you! Last night on Ellen DeGeneres show, the actress played Never Have I Ever with the host, Ellen. Jen, being such an honest sweetheart, revealed this detail about her life that we bet no one had an idea of. On the show, the first question asked by Ellen was, 'Have you ever joined the Mile High Club?' The slang connotation to this phrase means, "The term mile-high club (or MHC) is a slang term applied collectively to individuals who have had sexual intercourse while on board a flying aircraft."
To this, Jennifer raised the 'I Have' board which also resulted in a collective cheer and lot of eyebrows going up north! However, the round didn't end there as DeGeneres wanted to dig a little deeper. 'Never have I ever… with the pilot?' asked Ellen as she shot an inquisitive glance towards her guest. 'Oh God…' Aniston trailed off, reluctantly raising her 'I have' once again.
That was yet another shock for the 58 year old as she further prodded, 'And the co-pilot?….. and the flight attendant?' The 'I have' card continued to hang up in the air. Wicked! However, this last question finally put the session to an end! '… while eating a mini bag of peanuts?' All it took were peanuts to make Jen take down the 'I have' signboard. 'What? No, well that's just disgusting,' she replied with a sign of indignation flashing across her face. We got our hands on the footage of the same. Well Jen, you sure are one wild woman! (ALSO READ: Jennifer Aniston is ANGRY and here's what she has to say about the pregnancy rumours!)
Being a Friends alumni, her character Rachel has been one of the most loved character in the show. Post season 10, there has been no affirmation on whether a movie or season renewal shall be done. It has been quite a long time but fans would still kill to see the cast have a reunion because a lot of fans have grown up to watching the show. Currently, Aniston is promoting her upcoming film, Office Christmas Party, which hails an ensemble cast. However, when inquired if she would ever make her way back to television, Jen states that she would love to go back. In fact, she even stated that she would happily say yes to a superhero script provided they make her character an uncoordinated superhero!
Isn't she fun? With all the hullabaloo going on about Brad Pitt and Angelina Jolie's divorce, Aniston too has been dragged in unnecessarily. Not just her but husband Justin Theroux as well! Stay tuned to this space for more fun stuff. Oh and do check out the video of her admitting on having sex with a pilot in the cockpit.