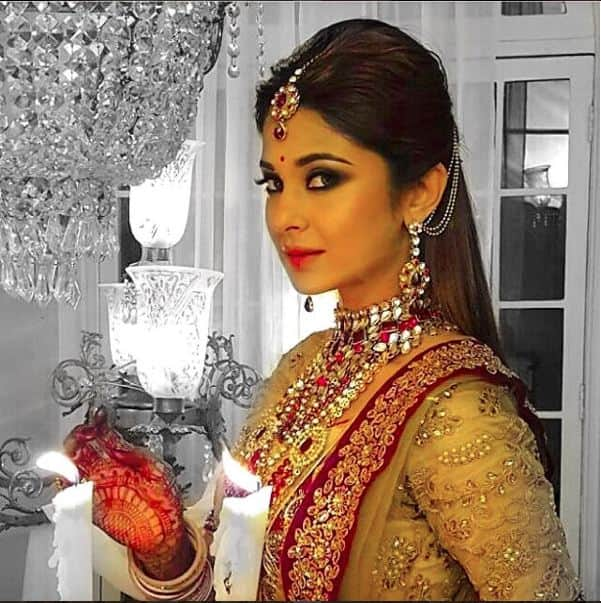 In a shocking turn of events, Beyhadh's set caught fire. While filming Maya (Jennifer Winget) and Arjun's (Kushal Tandon) much-awaited wedding sequence, fire broke out on the sets. The mandap was supposed to catch fire as per the script but things took a dangerous turn when the fire started spreading in the entire room. In the video, it can be clearly seen how Kushal jumped into the fire and pulled out Jennifer. Had it not been him, Jennifer could have got seriously injured. Thankfully there were no causalities on the set.
Here's the video –
A few hours after the incident, Jennifer took to twitter and thanked Kushal for saving her life. Kushal replied with the show's dialogue, "dosthi Ki hai nibhani tho pareghi." He also assured his fans that he has just got little burns on his neck and legs and will recover soon. Here are the tweets – 
@KushalT2803 I owe you biiiig time .. you saved my life 🙏🏻😘 https://t.co/1uHeS7gnJK

— Jennifer Winget (@jenwinget) February 7, 2017
@jenwinget @PinkvillaTelly dosthi Ki hai nibhani tho pareghi 😘

— KUSHAL TANDON (@KushalT2803) February 7, 2017
Thanku all for ur concern …. every thing is ok ,jus a little burn on neck and legs ,it will be ok soon much love 🙏🏻😇

— KUSHAL TANDON (@KushalT2803) February 7, 2017
Wel haha burns are a little painful tho …. but yea it Wil heal soon …Thanku 😘 https://t.co/ZqEqRtfDh2

— KUSHAL TANDON (@KushalT2803) February 7, 2017
Kushal also wrote a descriptive note of the entire episode on his Instagram account. He mentioned how none of the action directors came to her rescue. Here's what he wrote –
All this sounds very filmy but after having one look at the video one can realize the seriousness of the situation. Jennifer really owes her life to Kushal. The episode reminds us of the early '50s incident on the sets of Mother India when Sunil Dutt dashed into the flames to save Nargis. They ended up getting married to each other within an year. We don't know what does destiny have in plan for Kushal and Jennifer. As of now, we are just relieved to know that they are fine.