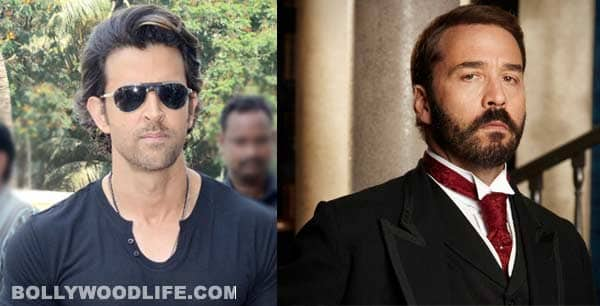 The Agneepath actor and the Entourage actor were at the Heathrow airport at the same time when this incident happened
Hrithik Roshan's friends often tease him with nicknames as Sri Sri Hrithik, Dalai Lama, etc, because he is known to be extra humble and always talks about loving, healing, forgiving and being nice to people. But he also walks the talk. He recently exhibited his gracious side, when he went out of his way to help Jeremy Piven, better known as Entourage's Ari Gold (who plays the title role in new the series Mr Selfridge) at Heathrow Airport.
Says an eye-witness, "Jeremy misplaced his passport at London airport and was kicking up a fuss. Hrithik, who saw this, stepped in to help sort the situation. The staff at British Airways didn't know who the LA-based TV actor was and were getting annoyed with his tantrum." Confirms a source close to the actor, "Jeremy was getting more and more agitated, and what irked him further was that he wasn't getting star treatment. When Hrithik stepped in to help, Jeremy assumed he was a fan trying to get his attention and got rude with him saying, 'Not now man. Leave me alone'."
Although it was clear that Hrithik, who was surrounded by Indian fans seeking autographs and photographs, was a celebrity, the Hollywood actor seemed not to notice that. Hrithik, again tried to help and this time Jeremy yelled at him and asked him to 'f**k off'. The Indian superstar still kept his cool and managed to find a solution to the problem, requesting one of the staff members attending to him to help Piven.
The source adds, "Hrithik has always believed in setting an example by being gracious and respectful towards his fans and those around him. While he does understand that actors do have rough days, he believes that public figures should conduct themselves with dignity as they are considered to be role models by teenagers and even older fans. He has consistently maintained a pleasant and kind demeanour and hopes to set an example for other actors."