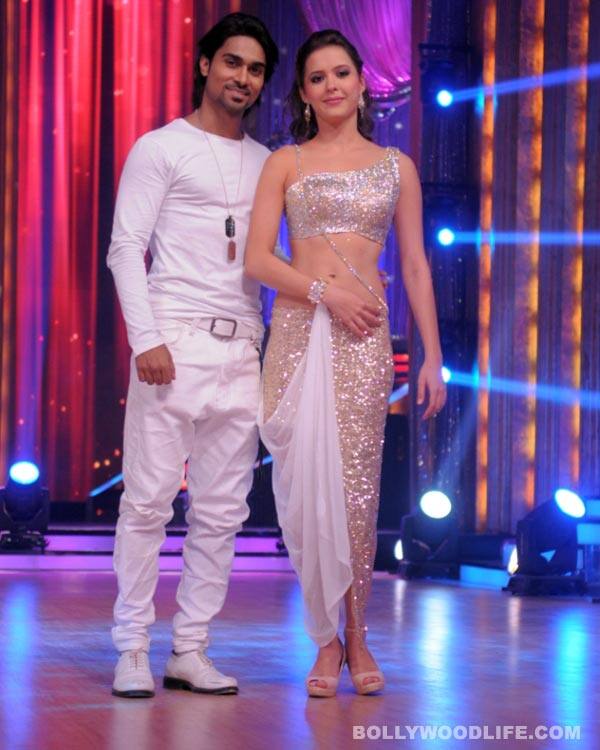 Isha Sharvani's partner on the famous celebrity dance reality show was injured in an unexpected contretemps with the cops at Goregaon, Mumbai
Now who doesn't know about the Jhalak Dikhhla Jaa 5 jodi whose favourite hobby is to grab the perfect 10 in almost every round? But looks like the evil eye has hit Isha Sharvani and Salman Yusuff Khan hard. Why? Remember how Salman injured his neck during rehearsals? After that we saw how Isha fractured her elbow while working on a routine with a firangi choreographer. And the latest update coming our way is that choreographer Salman has been injured, again – though not too seriously – but this time in an incident that involved the police.
So what happened? "We took an auto as I had sent my car for servicing. A few metres ahead, there was a nakabandi. A policeman gestured at the auto driver to halt, but the latter continued to speed. I kept asking the driver to stop. However, he said he was scared that he would be beaten up," Salman said in an interview. Reports indicate that the autorickshaw driver did not have a valid license and was thus unwilling to face the consequences.
But that's not all. "As the constable struck the windshield of the auto with a lathi, the driver jumped out and started to run. I waited outside the auto till the constable caught hold of the driver and brought him back. I was appalled to see the constable thrashing the auto driver. When I protested, the cop and the biker then proceeded to attack me, claiming that the auto driver had sped on my instructions," Khan said. Tch tch!
What's more, Salman suspected that constable Suresh Gurav's breath smelled of alcohol. And so he decided to register a complaint against the seemingly unfair assault. "I insisted that I wanted to go to the Goregaon police station to lodge a complaint against him. On reaching the police station, the constable flashed his badge at me, but did not give his name. My complaint wasn't recorded by the night in-charge and I was sent to Siddharth Hospital for an examination, along with the constable," Salman said.
"Gurav did not test positive for alcohol. After Khan approached top police officials, an inquiry was ordered against Gurav and Mahadeshwar. We have also recorded a non-cognizable complaint against Gurav for assaulting Khan – his injuries are not very serious. The auto driver has been booked for assaulting a public servant," senior inspector Arun Jadhav of the Goregaon police station said.
Now that was an unfortunate incident, no? And it only makes us wonder if this was the final blow to the successful partnership of Isha Sharvani and Salman Yousuf Khan. With so much trouble to deal with, do Isha and Salman have any chances of coming back to top form now and winning the show? Did someone really put an evil eye hex on their successful partnership? What do you think, readers?