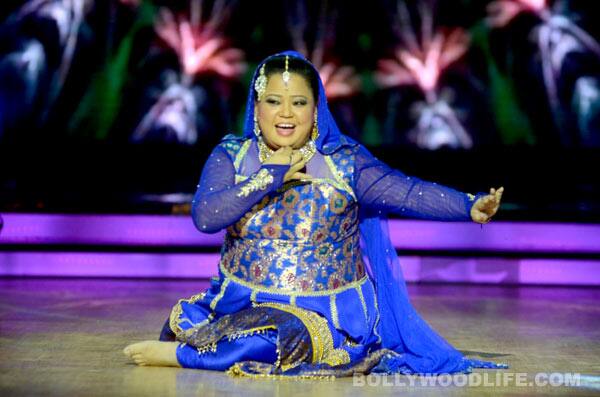 And buzz is that the stand-up comedian won't let her fans down in the upcoming episode
The glittering judges of Jhalak Dikhhla Jaa 5 – Madhuri Dixit, Karan Johar and Remo D'Souza –  frowned and fretted over Bharti Singh's performances that according to them were losing steam. But no more! We are told that Bharti will be back with a dhamakedaar mujra in the upcoming episode of this dance reality show.
But what was it that pushed Bharti to excel this time around? Judges comments? Or was it Farah Khan and Boman Irani's presence that did the trick? Wethinks it's the latter. Right, Bharti?
What's more, while Farah and Boman were definitely under the spotlight this time around, Bharti wasn't left far behind. And you can very rightly blame Farah for it coz she admitted that almost all her family members, friends and relatives, including her mother-in-law (ahem ahem) were raving fans of this rounded contestant and never missed her performance.
And hinting slyly at Bharti's shape, FK even called her 'moti'vation. Now that was…errr..smart! But coming from Farah who was at her 'moti'vational best just a month ago, it sounds over smart, no? Well, just to clarify, this comment wasn't without a reason coz according to the Shirin Farhad Ki Toh Nikal Padi actor, Bharti is indeed a motivation for 'women in this world who are skeptical of stepping out of their comfort zones because of their weight'. Hmmm, well said FK!
But will these good wishes work in Bhart Singh's favour and get her a perfect 30? Time to wait and watch, folks!