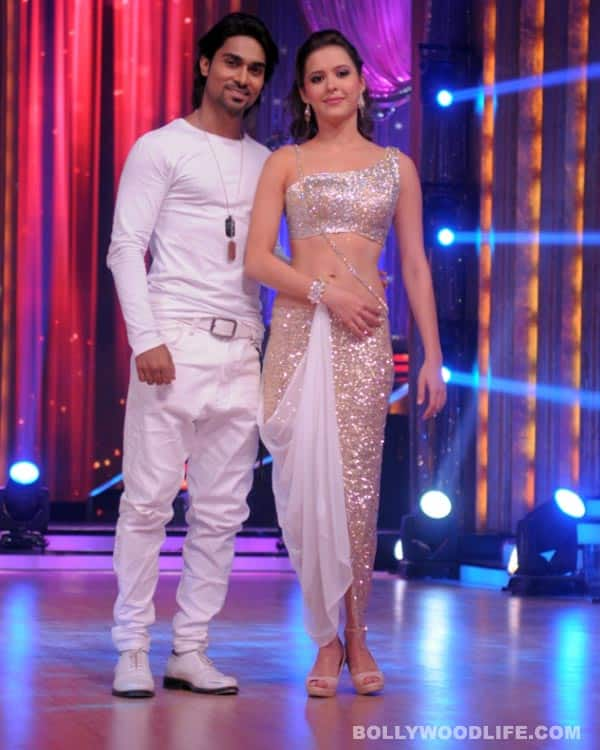 The Kisna gal got defensive when questioned about her credentials to be on the show
We had asked you a question a couple of days ago: Is it fair to have Isha Sharvani on Jhalak Dikhhla Jaa 5? The show is meant to pull actors, cricketers, musicians and anchors out of their comfort zone and make them dance. Isha has been dancing since she was a kid and has performed in 22 countries. Isn't it unfair to the other contestants, we had asked. At the launch of JDJ 5 yesterday (June 7), we asked the same question to judge Remo D'Souza and to Isha herself. Read what they had to say?
Remo was his usual diplomatic self. "Yes, Isha has been dancing since she was a child, but her style of dancing is kalari or rope mallakhamb. Her body has been trained to do that. To break that down and make the body do Latin ballroom dances, well it will be as difficult for her as it is for Sanath Jayasuriya," he said. We may not know the intricacies of dance as well as Remo but comparing Isha to Sanath is stretching it a lot, don't you think?
Isha took a different route – she refused to answer our question. Not directly, of course. You wouldn't want to risk that in front of several mediapersons. She went on the defensive. "Who told you that? Tell me that first. Who told you that?," she half yelled. When asked what she would like to say to all those who call her participation unfair (including us), she turned away and let her choreographer jump in with a lot of nonsense. "Nobody learns how to dance from their mother's womb. It's all about hard work. You have to work hard blah blah blah…' Honestly, we tuned out halfway through his speech. We wanted to know what Isha, who was calmly sipping tea and pointedly ignoring us had to say. We turned back to her and asked again what she has to say to her critics. Now that she had time to compose herself – thanks to her choreographer's attempts at distraction – we expected a fantastic answer. Instead she put on a bored look and drawled, "Go watch the show." That's the best you could come up with Isha? Tsk tsk.